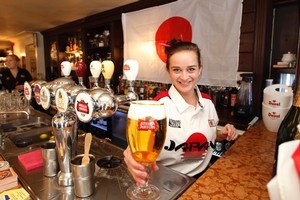 Rugby World Cup nations are picking pubs all around Auckland to use as unofficial fanzones during the tournament.
As the official French party books out the restaurant area of the Viaduct's Kermadec as its World Cup headquarters - leaving its bar and brasserie for the public - the 20 nationalities represented in the cup are finding their own bars and venues to gather at during the two-month event.
In Mission Bay, restaurant and bar De Fontein has received bookings from Japanese touring groups and is expected to become an unofficial venue of choice for them.
The two-storey restaurant will fly a Japanese flag and be decorated to welcome the visitors, serving beers and green-lipped mussels to corporate groups and associations.
In Parnell, sports bar the Paddington is bracing for the English and Argentinian fans, who have shown a keen interest.
The venue and its big screens were the two nationalities' preferred choice for the soccer World Cup.
"There's a big difference between them - English fans are 99 per cent men, but Argentinian fans are about 50-50 and certainly better to look at," said owner Brian Collins.
Independent French visitors and expatriates have agreed on the Ponsonby pub as their base during the tournament.
"This place has character, looks European, and has nice beers. It's going to be perfect for it," said expat Sebastien Michel.
It has been dubbed "Fanzone Frogs" and has its own Facebook page to help co-ordinate French cup visitors.
Mr Michel's travel agency, Frogs in NZ, will also steer the French towards the pub.
"It will be a meeting place to watch all the rugby and a meeting point between matches," he said.
Another fan, Yan Birre, said the tournament was not about winning, but "if we can beat the English it's all fine".
New Zealand Russian Society president Sergey Permitin said the society's clubrooms and bar in Newmarket would become the Russians' World Cup base.
"There won't be as many coming from all of Russia, but the locals will support the team. There are 10,000 Russians in New Zealand," Mr Permitin said. "Of course it will be a full house."
The Russian supporters would not be giving an inch to any other nationality, he said.
"Of course we want to give as strong a support as anyone, including the Irish. We're going to the game against Ireland in Rotorua so we will be face to face with them."
Auckland Irish Society president Mick Hickey said all the Irish pubs in the city would be catering for the country's fans, but the society would make sure that the Irish made as big a splash as anybody.
They would gather at the society's clubrooms with a particular focus on their match against Australia at Eden Park, which is within walking distance.
"That could be a huge day. We'll have a walking bus to the stadium, which I hope will be a singing bus by the time it gets there.
"We wouldn't want to be outdone by the French or anything with making an impact."
Society member Treza Gallogly said all New Zealand should be behind Ireland that evening.
"It will be fantastic. A lot of people like to support the Irish anyway, but it's against Australia so we're going to have more support than usual.
"There will be heaps of people here. It's hard to put a finger on it ... If the Irish beat Australia we won't stop for three days."
A spokesman from the Scottish Clans Association said Remuera would be the Scots' adopted hometown for the cup.
Remuera Business Association manager Laura Carr said there were plans for street parades, neighbourhood-wide decorations and whisky tastings to welcome the Scots.