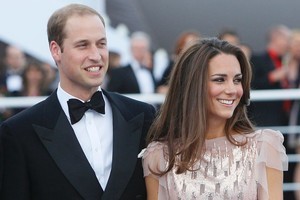 Prime Minister John Key is disappointed Prince William and wife Kate Middleton will not be attending the Rugby World Cup, but says he is sure the royal couple will visit New Zealand at some point.
A spokeswoman for the royal family confirmed to NZPA overnight the trip was definitely off.
The couple were pleased and honoured to be invited but Prince William could not attend due to military commitments as a helicopter pilot.
"They have considered the matter, and with regret, they'll be unable to attend owing to their military pressures," the spokeswoman said.
The decision was not due to the tradition that members of the Royal family do not visit Commonwealth countries during general elections, she said.
The election is to be held on November 26 after the Rugby World Cup.
Mr Key told reporters in India today he was "a little bit disappointed" by the decision, "insomuch as (William) is always a welcome visitor to New Zealand".
"It'd be lovely to see Kate in New Zealand as well, but he's been twice actually in the last 14 months. He's got a balance he's got to reach with his other commitments in terms of being a helicopter pilot for the RAF," Mr Key said.
"I'm sure Kate and William will come to New Zealand at some stage and while he won't be there for the World Cup there's a lot of other dignitaries that will."
Mr Key said he did not think the convention on Royal visits around elections had much to do with the decision.
"He could have come in a private capacity, that was the advice I had. I personally invited him so I don't think that would have been a major issue," he said.
It was unlikely the Queen would visit for the Rugby World Cup as she had a "reasonably busy schedule" in Australia, including the Commonwealth Heads of Government Meeting in Perth.
Prince William, 29, who is an avid rugby fan and vice patron of the Welsh Rugby Union, visited New Zealand when the Lions toured in 2005, and again last year.
After attending the couple's wedding in April, Mr Key told reporters he hoped they would visit "sometime very soon".
"The first thing Kate said to me was she wants to visit New Zealand," he said.
- NZPA