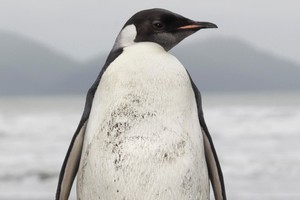 Happy Feet is the first emperor penguin to arrive on our shores in almost 50 years - and this time the bird has a lot more attention.
Hundreds of people have flocked to the zoo for a glimpse of the penguin which has made headlines since its arrival.
It's a stark contrast to the last time an emperor penguin graced our shores and only made a picture caption in a local paper.
Trevor Bloy was a 21-year-old photographer working for the Southland Times when an emperor penguin was spotted on Oreti Beach in Invercargill in 1967.
"It was a number of years ago but it was quite awesome seeing it standing there on the beach," said Mr Bloy, now 65.
He said Happy Feet's arrival in Wellington brought back fond memories of his own encounter.
"As soon as I read it I recalled that day way back then."
He said the day began with a news tip to the reporting desk about a penguin sighting on Oreti beach so he and another photographer were sent to check it out.
"We arrived there and the beach was empty ... all for this lonesome figure standing there in the form of an emperor penguin. Couldn't believe it."
The penguin came to stand at over a metre tall - making Mr Bloy cautious whether to approach any further.
"That's about as close as I got," he said about the picture he took. "I wasn't quite sure whether to go any closer because he's got a pretty long beak."
Mr Bloy spent about 15 minutes on Oreti Beach.
"Unfortunately we had to leave that bird there, what his or her fate was I've got no idea."
Mr Bloy said the paper ran a captioned photograph of the penguin.
Mr Bloy said he was supportive of Gareth Morgan's idea to get Happy Feet home on a Russian icebreaker.
"I couldn't imagine him being put in the water at Wellington Harbour. I would be very surprised if he made it back to Antarctica," said Mr Bloy.
"To be taken down there would be absolutely fantastic."