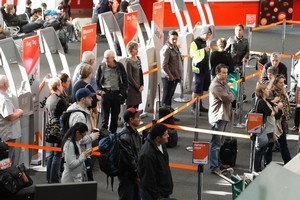 Record exodus to Oz
* 3300 Kiwis flee in month
* Quake adds to rush - Herald front page, Wednesday.
"We've got to stop them," snapped Carnaby la Frange, deputy senior head guru, Creative, at the award-winning agency Flaashi and Costli.
"If we don't, there won't be anyone here to watch our ads. And that would be cat-A-strophic, right?" There were murmurs of assent from the small group in the Think Tank, the company's architecturally designed creative hubboid.
Even the glazed dude in the self-made God is Kronic T-shirt nodded as he peered through the 34th storey window at the scudding clouds below, muttering under his breath, "Oh wow, that ash is so co-o-o-o-o-l!"
"So what have we got?" rasped Carnaby, spinning on the heel of his Moroccan leather boots and jabbing a manicured finger at the HD 3D IT whiteboard.
"Let's get it on and get it up."
"Ohhh, you're so masterful, Carny," whispered a rather fey fellow at the back.
"I know," snapped his boss.
"That's why I'm here and you're there. Speaking of which, where's Shalom?"
"He'll be here soon, C, baby," replied Daphne from Digital. "He's just at the hospital with his brother, the school teacher. Got beaten up in a corridor, apparently."
"T'rific," rasped Carnaby.
"Good to know the gummint's committed to a safe work place," he quipped and the group roared with laughter.
"Boss, I think we need some political help with this one," a junior staffer nervously suggested.
"Political help!" snorted a colleague."That's like building your lifeboat with lead."
"No, hear me out," the youngster persisted.
"I think we need a new law. Then we could run an ad that says, 'Okay, go if you must, y'rotten, miserable, rat fink deserter. Beat it! Clear off! Take the cat, take the budgie, take the kids if you have to - though we'd rather you left them here - but there's one condition. If you do hot foot it to Oz, you have to fly Qantas'."
"But Qantas isn't flying!!!" someone protested.
"Exactly," grinned the youth. "If Parliament passed a law saying everyone going to Australia has to fly Qantas then, hey, problem solved!"
"I like it," said Carnaby, punching the air.
He paused, brow furrowed. "Big headline: Forget Australia. Let us drive you to distraction And finish with the Qantas logo."
"Genius, C.L.," roared the group.
"We could follow up with a campaign for the other one: JetStar: The airline for people who like to keep their feet on the ground
"Now we're cooking!" roared Carnaby.
"Stress the hassle. And the risk. Make people think they're taking their lives in their hands by crossing the ditch. They call us Virgin because we never go all the way, that kind of thing."
"L-o-o-o-ve your thinking," said the newly hired Tweeterator. "But shouldn't we be accentuating the positive? You know, selling the Kiwi sizzle? I want to launch a Count Your Blessings campaign on Twitter. With heaps of positive messages. New Zealand. Less cash. More ash. To show how close we are to nature."
"I thought 1080 did that,"said Carnaby, slightly puzzled. "But I hear where you're going, concept wise, and it's hot. HOT!!! Come on, guys! Let's storm those brains, team!"
"Maybe Hone could say going to Australia is b******t. He seems to think everything else is."
"Yeah, well, the feeling's mutual," said a cleaner who'd wandered in by mistake.
"You should have a whip round and shout him a one-way ticket. That'd be a good start."
"Focus!!!!!" bellowed Carnaby. "This is urgent. We're talking crisis here - 56 people have jumped ship since we started the meeting."
"Okay. Try this," suggested a minion. "You want sizzle? Well, nothing sizzles like cinema. And where's the hot cinema happening? Here. So here's the deal. We make a pitch to the wannabe within ... Don't Hop It! Hobbit! New Zealand needs dwarfs, gnomes, elves and pygmies. Sound like you? Then stick around. Why be a Jet Star when you can be a Big Star."
"Like Dame Edna. He got cast this week," grumbled a sceptic.
"It's not the fact, it's the feeling," replied his colleague. "The vibe. The buzz. The magic of Morrinsville. Hey, it's all happening in Hobbiton."
"I'm not sure three weeks' work and a cut lunch is going cut it, really," mused Carnaby.
"Then try this," said the minion, undeterred. "Bill English is borrowing $350,000,000 a week, right?" They nodded.
"Then, for one week - just one week, no more - he doesn't put it under the mattress. He divvies it up and gives each of us a share. I figure that's roughly $6 mill each. Provided we agree to stay here till we pop our clogs. Waddya reckon?"
"I reckon you've cracked it," said Carnaby. "Strewth, with that kind of money, we could have the next staff social on the Gold Coast!"
Five minutes later, the team was still cheering.