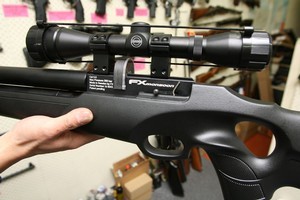 A proposal banning imports of airguns that look like the military weapons will have little impact on the the number available or on criminals using them to intimidate people, parliament has been told.
The Arms (Military Style Semi-automatic Firearms And Import Controls) Amendment Bill would ban importing airguns that look like real pistols, military-style semi-automatics (MSSAs) or restricted weapons - unless a police permit is granted.
The bill, which is before the law and order select committee, aims to impact criminals that use replica guns to intimidate people.
Police estimate that every week armed police are called out in response to a person pointing an airgun that looks like a firearm.
But Gerry Veugelaers, president of the Wellington Service Rifle Association, told the committee an import ban was unlikely to have any effect.
A similar restriction on importing MSSAs in 1992 had had no notable effect, he said.
"As an endorsed firearms dealer, no doubt I could probably apply to police and get a permit and bring an airgun in," Mr Veugelaers said.
"If the problem is those being used in crime, surely it's those people in possession that need to be the focus."
He said a better approach would be to require airgun-owners to have a firearms licence.
"We also question whether all other 'lookalikes' such as dart guns, cork guns and water pistols will follow suit."
Mr Veugelaers supported clarity in a new definition of an MSSA, but cautioned that tweaking with the definition too much would affect members who enjoy firearm sports.
"If the legislation is too onerous, we believe it will probably force more firearms underground and increase the pool of illegal firearms in New Zealand, rather than decrease it."
The Sports Industry Association told the committee it was opposed to the import ban, and compared criminals with replica firearms to criminals armed with baseball bats or golf clubs.
But it acknowledged the different weapons would provoke a different response from police. It suggested a separate permit to be required for airguns.