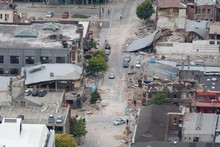 Last night's 5.4 magnitude aftershock which struck Christchurch has increased damage within the city's red zone.
The 10.34pm tremblor 10 km south-west of Christchurch at Halswell was initially measured at 5.3, but upgraded to a higher magnitude by Geonet today.
The quake cut power for a short time to some suburbs including Ilam, Avonhead and Burnside but police said by midnight last night there had been no reports of serious damage or problems.
Power company Orion said 11,000 customers lost power in west Christchurch however it was was restored to most homes within an hour.
CERA says checks carried out following last night's aftershock found cracks in many buildings in the the CBD's red zone had widened.It
It says more masonry had fallen from buildings, with more bricks and glass on the ground.
However at this stage there's no addition to the number of buildings requiring urgent demolition.
The city's airport was closed while runways and control towers were checked for damage.
Early today, overseas flights were being diverted to Auckland.
Southern fire communications shift manager Jan Wills said the service had received a large number of calls from "shaken" people.
The only report of damage received was from a resident in Hei Hei whose windows were shattered by the force of the quake.
In the eastern suburbs, Burwood resident Margaret Roy was playing bridge with friends when the walls started to ripple.
"Everyone's face went white and we just froze," she said. "There's nothing you can do when something like that hits. You're completely stuck wherever you are.
"After, we threw our cards down on the table and got out of there. It was terrible."
One Christchurch resident told the Herald that the quake came suddenly and brought a "violent rattling".
"It built in intensity and then the lights went out. It felt like one of the largest quakes we've had.
"It gave us some nervous moments feeling like the place might come down."
Christchurch mayor Bob Parker said there did not appear to be serious damage or injury. But it was a "very short, sharp jolt that would have triggered aftershocks in other faults".
The red zone in Christchurch's CBD has sustained further damage as a result of last night's 5.4 magnitude aftershock.
Mr Parker said it continued to cause unease for already stressed residents, but would not change the mindset for many who were already "at rock bottom".
Police took just two calls from people feeling unsafe.
"People are getting quite used to them now, they know what to do," a southern police communications spokeswoman said.
The University of Canterbury was evacuated last night and the buildings inspected however exams will take place today as scheduled.
From 7.30pm to 6.30am at least 12 aftershocks struck the city, including a 4.4 magnitude earthquake 10km southwest of Christchurch near Haswell at a depth of 10km at 3.28am, a 4.3 magnitude earthquake centred 20km north of Ashburton at a depth of 12km at 7.35pm and a magnitude 4 within 5km of Lyttelton at a depth of 5km at 4.24am.
Meanwhile police staff in Christchurch are getting top level assurances their central headquarters building is safe.
Some staff who work in the building have been expressing concern about its ability to withstand further qua
kes.
Police Minister Judith Collins has visited the building and says two engineers have certified it as safe.
"There's been some liquefaction back from the earliest quakes, in the carpark and that's all been cleaned up. I've also been advised of some media reports of liquefaction elsewhere but there hasn't been," she says.
Ms Collins says asbestos was found in one part of the building after the September quake but it's been dealt with.
- with Herald staff, Newstalk ZB, NZPA
By Amelia Wade

Email

Amelia, Jarrod Booker, Paul Harper