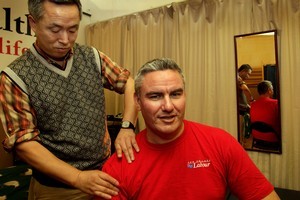 On a massage table at a supermarket in Henderson yesterday, campaigning was great for Kelvin Davis.
It was an odd stop on the hustings for the Labour candidate in the Te Tai Tokerau byelection.
Mr Davis has made this race one of the closest competitions since 2005 when the Maori Party swept four of the seven seats.
Polls put Mr Davis' support at 40 per cent to Mr Harawira's 41 per cent.
Labour list MP Shane Jones rang when the Herald was there.
"Where was everybody?"
By everybody he meant Mr Davis' team - that's because Mr Davis' daily itinerary only noted he'd be having a mirimiri (massage) at lunchtime.
Mr Jones laughed uproariously when told: "At a Korean massage booth at the back of an Asian store, a place with absolutely no Tai Tokerau voters around.
Not one."
Mr Davis had come with a Maori health provider who uses the service for clients. The hour-long break was probably the last one he'll get until polling day on Saturday, he said.
He received a head-to-toe treatment and rated it "a good eight out of ten".
"It's different to the old sports massage where the masseuse puts his fingers through your neck and that. It was nice, I started to doze off a couple of times there."
The Prime Minister has backed the former Kaitaia Intermediate principal to take the seat. Even fellow candidate Solomon Tipene tipped Kelvin on Waatea Radio yesterday.
Mr Davis has been a list MP since 2008 but he said this byelection had helped him find his feet.
"I'm not a natural politician. When I got into Parliament I recall Dover [Samuels'] words. He said 'keep your mouth shut and learn as much as you can'. After two and a half years I'm starting to get a feel for politics.
"I'm loving [the byelection]. This is really energising. It's tiring, it's long hours but it's the best time in three years."
Labour MPs Parekura Horomia and Nanaia Mahuta joined Mr Davis, and Ms Mahuta hovered while photos were taken. "I want him to look good, like he's in for the fight," she said.
TURIA READY TO TALK TO HARAWIRA
Tariana Turia has signalled she could engage with Hone Harawira after the Te Tai Tokerau byelection despite her party's and Mr Harawira's broken non-aggression pact.
At the weekend the Mana Party leader said his first call should he win would be to the leaders of his old party.
Maori Party co-leader Mrs Turia said she was willing to hold talks with Mr Harawira about the parties' approaches to the general election.
She said it was the Maori Party members who wanted to stand against Mr Harawira in the byelection, not the leadership.
"It was not a preference for us."
She said if Mr Harawira was serious about revisiting the agreement not to stand against each other, she was willing to talk to him.
"We all need to revisit the agreement. Let's wait and see what happens after this weekend and then we'll sit down and talk then. But I can't speak for the party, because I am only one out of 23,000 members. At our next conference, if that's correct and he does win the Tai Tokerau, we will sit down and think about what that means for us going into the future."
Mrs Turia also said she did not agree with Mr Harawira's policy to increase the dole to the minimum wage and set up work schemes.