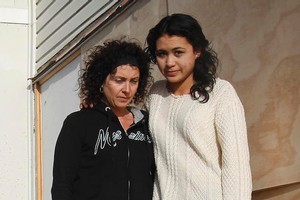 Chenye Hughes was asleep in her conservatory when a tornado tore through her New Plymouth home yesterday, showering her with shards of glass.
As window panes buckled and smashed around her, the 17-year-old could only curl up in her bed.
"I didn't open my eyes when it came because I just couldn't," said Chenye.
"I thought it was an earthquake, then I thought it was a dream, so I just curled up in my bed and hoped for it to stop."
The fierce winds swept up the New Plymouth Girls High student's laptop, cameras and art homework, leaving almost nothing in her room.
They also ripped tiles from the family home and tore off part of a neighbour's roof, but left Chenye unharmed.
Chenye's family home was one of several the tornado battered as it roared in from the sea and swept through New Plymouth's CBD and residential areas about 4.20am.
It first crashed into Robbie Low's radiator repair shop on Molesworth St. When the Herald visited later, Mr Low and several friends were fixing what was left of the roof - still unsure where the rest had landed.
"One part of the workshop roof is completely gone. The main door was blown right inside; it's just a mess inside, carnage," said Mr Low.
At least 15 premises were damaged. The tornado then headed east, hitting two homes in Lemon St, including the one David West had been renovating.
"It was bigger than anything I had heard before," Mr West said, "and you just had to sit there waiting for something to happen. It was like a really big hail storm but straight away I knew what it was."
He could hear the crackling of power lines and feared for the safety of his family and their Jack Russell dog, Buster.
The inside of the Wests' home was left a sopping mess.
Mr West said the family would stay in a motel until insurance assessors decided what would happen to their property.
"I don't think there's really much point in doing any more renovations for a while."
Another house, two doors away, also had its roof torn off. Debris showered neighbouring properties, smashing windows in one home, where an elderly woman suffered cuts to a leg that required four stitches.
Mike Langford, senior emergency management officer for the Taranaki Regional Council, said the tornado took a similar path to one in 2007 which tore the roof off the Placemakers building and caused thousands of dollars worth of damage.
Yesterday's twister ended 2km from where it started - near the waterfront on Molesworth St.
Fire Service Taranaki area commander Pat Fitzell said it was a miracle that no one had been seriously injured.
Firefighters had attended more than 30 callouts and helped to secure loose roof iron and to cover exposed rooftops.
MetService chief forecaster Peter Kredft said the damage was likely to have been caused by one tornado, not three as initially reported. The different areas of damage were probably the result of one tornado touching down in one place and then rising and touching down elsewhere.