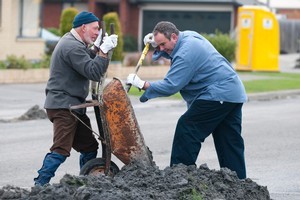 You can hear it in their voices. They've had it.
They've been stoic and resolute and chipper and their black humour has even been collected and put into a bestselling book.
You know you're from Christchurch when ... you don't call the police when there's a large gathering of students in the street. When you know and understand all the terms and conditions of your insurance policy. When you know the magnitude and location of every aftershock.
But this latest quake has knocked the stuffing out of Christchurch residents. Two steps forward, three back. They're back at square one, survival mode.
You can only go on like this for so long before your body just can't take it any more. The adrenalin surges, the sleeplessness, the constant worry - no wonder the fear and uncertainty is making way for frustration and anger.