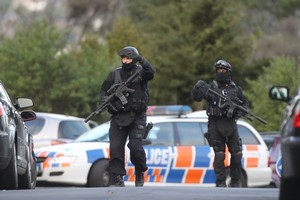 Staff and pupils at an Auckland school locked in for their own safety after reports of a gunman in the area have been released.
Blockhouse Bay School was locked down just before 3pm, but the students at were released from their classrooms shortly after 5pm.
The 46 year-old Henderson man believed to be carrying a firearm was seen near the school around 2.30pm.
Armed police were at the scene along with the police Eagle helicopter.
At 2.50pm, police came on to the school site and told staff they needed to go into lockdown, principal Neil Robinson told NZPA earlier.
"There was a man of concern in the area and they didn't want to release the children out in that environment.
"So we've been locked down ever since," Mr Robinson said.
He could not confirm reports that the man was armed.
"I've a sneaky suspicion that he is armed, given the number of police that are here. But we've done lots of lockdown drills before, so the kids and teachers all knew exactly what to do. So they're all safe.
The children were in good spirits and were not frightened by the high police presence.
"I've just been around the school and they're singing songs and doing activities. Some of the little ones didn't realise it was after 3pm.
"The teachers are doing a really good job of keeping them busy. I've reassured them too that the police are doing a good job of keeping them safe," Mr Robinson said.
He urged parents to come to the school to pick up their children, if they were not already there.
"We have 150 parents in our staff room. It was right on pick-up time so we hurried them in to the office area and they're all with us," he said.
A further 30 parents were waiting behind a cordon outside the school.
Police were searching the nearby Craig Avon Park. The police Eagle helicopter was circling and armed police were at the scene.
It is understood an earlier incident happened in Henderson Valley, west Auckland, when a group of men left the area, including one person armed with a firearm.
Some areas of Henderson Valley were blocked off earlier in the afternoon, but police were unable to confirm the details.
- NZPA