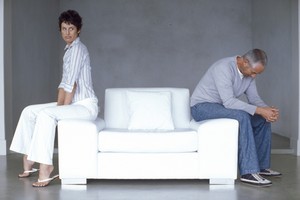 Kathy Bigwood was devastated when she and her husband split after being together for more than 20 years. The marriage celebrant was in her early 60s and was suddenly alone.
Bigwood, whose divorce came through two months ago, joins a growing number of empty nesters and parents over-40 who are divorcing after their kids leave home.
New figures show Kiwis are divorcing later in life - many of them after 20 or more years of marriage. The trend means divorcees are older. The median age for divorce in 2009 was 47 for men and 44 for women. Ten years earlier those ages were 43 for men and 39 for women.
Bigwood, now 64, had been with her partner for 23 years, 13 of those as a married couple. She has a grown-up son from a previous marriage.
"I was absolutely devastated about it but now I can tell you I'm in a better place than I've been in my whole life."
After children left home it could become easy for couples to grow apart, she said.
"I think one or the other becomes very involved in their passion - job, volunteering or hobby and perhaps move away from that total involvement in marriage.
"If one doesn't keep up with the other, they look elsewhere."
Since her divorce, Bigwood has a new partner and has found new interests.
Trends also show fewer people are tying the knot. An increasing number of Kiwis are opting for de facto relationships. In 2009, there were 21,600 marriages, 300 fewer than than the year before. The same year, courts granted 8700 divorces and half of those involved had been married for 13 years or longer.
Bigwood said while she was enjoying being in a committed relationship it was too soon to say if she would consider re-marrying.
Divorce lawyer Jeremy Sutton has seen a steady increase in the number of clients seeking divorce after at least 10 years of marriage.
"Most of them would be 45 to 50-plus. It tends to be they're back at work again now and they're not enjoying spending that time with each other."
More freedom to pursue hobbies and less stigma around divorce in that age group also contributed, said Sutton.
And while people might be better off financially when married or in de facto relationships, it wasn't enough of a reason to stay for many who were unhappy, said Sutton.
"For some of those people, they put more value in their wellbeing than financial position."