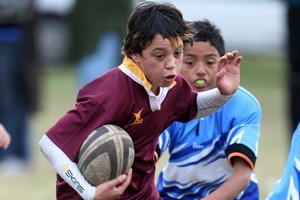 Some rugby coaches, parents and even a few former All Blacks are taking a dim view of a recent Auckland Rugby Union decision that matches in junior grades (under 13) cannot record a winning margin of more than 35 points.
Is this "political correctness gone mad," as one coach described it to the Weekend Herald when he discovered his team had not been credited with a win of 106-0 on the ARU website? Parents, he said, were "absolutely filthy" about it and some of the coaches were planning to ask the ARU to think again.
They were supported by former All Blacks Stu Wilson, Josh Kronfeld and Sir Colin Meads. Wilson said there was no evidence heavy losses were discouraging junior players.
Kronfeld said when he was a boy he was in a team that often lost by 50 points and he still enjoyed himself. Sir Colin: "I feel we should just let the kids get out there and play the game ... I know we don't want to get thrashed but there is always next week where we can get better."
They have a point. Adults are inclined to underestimate the realism and resilience of children. It may be that parents of a team taking a hiding suffer more than their boys. When the game is over, it is their good moments youngsters remember, not the score.
But for all that, the Rugby Union's design of its "Small Blacks" development programme is worthwhile. It is not a softening of competition - a 35-point margin is a telling result - and it does not stop teams continuing with a one-sided match to the bitter end if that is what their coaches prefer. The final score simply will not be recorded.
Some of the coaches who call the result cap "ridiculous" do not argue with its purpose. They say they are happy to call a halt at halftime if one team is running through the other, and switch players around to make it more fun for everyone. They simply do not believe a score cap is necessary to induce them to do this.
Well, not all of them have been doing so. Scores of 106-0 speak for themselves. A score cap simply removes an incentive to continue for a team winning too easily. If a team falls behind by more than 35 points by halftime the match is likely to become a farce.
The rest of the time could be more fun for all concerned if the dominant team rests one or two bigger players who at junior levels can make all the difference.
Children are keen to copy everything they see their heroes do. It is not unusual these days for professional sides to spell their best players if the team is winning comfortably. Good juniors could consider it a badge of honour to be pulled off when their team is 35 points ahead.
Children's rugby is not a contest of well-drilled teamwork, it is usually a constant loose maul of running, tumbling and reluctant passing. The challenge for a junior coach is to impart the basic skills while keeping it fun.
If they use the 35-point rule in the right spirit they could give more children more joy on a Saturday morning and better nourish the game for the future.