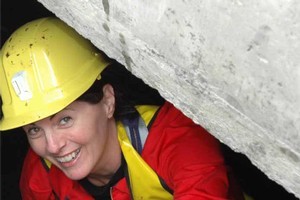 The family of Watercare worker Philomen Gulland are planning a private funeral, and have asked mourners for donations to Oxfam instead of flowers.
Ms Gulland died in the gas explosion on Saturday morning in Onehunga. She was inspecting a tunnel underneath Mt Smart Rd when the blast occurred.
Her family will hold a private service this week and have nominated Oxfam for cash tributes.
The 48-year-old was a regular on the 100km Oxfam trailwalk.
In a funeral notice, Watercare said her
professionalism, positivity, generosity
and laughter would be missed from the workplace.
Colleague Ian Winson, who lost both his legs in the explosion, remains in serious but stable condition in Auckland City Hospital.
Watercare reconnected a new piece of pipe late Tuesday night and began filling it with water yesterday, but it is unlikely to be in full use until late this week.
Meanwhile, nerves were frayed when a gas leak sparked the evacuation of a block near Auckland's waterfront yesterday.
Office buildings were emptied when a 100mm commercial gas main was broken about 8am by a contractor using a digger on the corner of Jellicoe and Daldy Sts.
Fire Service shift manager Jarron Philips said firefighters set up two ground monitors and fired water to try to disperse the gas.
Readings for gas levels in surrounding buildings were all negative.