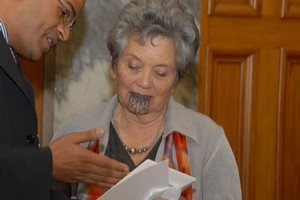 Former Auckland Grammar headmaster and All Black captain John Graham is among seven prominent New Zealanders made knights or dames in the Queen's Birthday Honours today.
Auckland philanthropist Rosie Horton and Katerina Te Heikoko Mataira, from Hamilton, who has helped lead the revival of the Maori language, have been made Dames Companion of the New Zealand Order of Merit, and Court of Appeal judge Grant Hammond, Anzco Foods founder Graeme Harrison, Manawatu businessman Patrick Higgins and arts patron James Wallace join Sir John as Knights Companion.
One rung down from the knighthoods, former Auckland Mayor John Banks and former Wellington Mayor Kerry Prendergast have been made Companions of the order.
Recently retired Police Commissioner Howard Broad, former Race Relations Conciliator John Clarke, former Treasury Secretary John Whitehead, opera singer and administrator Christopher Doig and Mark Ford, who led the body setting up the Auckland Council, are among others to be made Companions.
Silver Ferns netball coach Ruth Aitken and captain Casey Williams, past NZ cricket captain Stephen Fleming and the most recent one, Daniel Vettori, and rugby administrator Rob Fisher have all been made Officers of the order.
Basketballer Pero Cameron and gold medal-winning Paralympian Adam Hall are made Members.
Broadcaster John Hawkesby, celebrity gossip David Hartnell, OpShop singer Jason Kerrison, first Fonterra chairman John Roadley and winemaker Allan Scott are also on the Members' list, while former National Party president Judith Kirk and Maori educator Cathy Dewes are made ONZMs.
In the military list, Lieutenant Colonel Christopher Parsons receives the Distinguished Service Decoration for his work in Afghanistan leading the SAS taskforce protecting Kabul.
Flight Sergeant Darren Smith, a helicopter crewman, has also been honoured for his rescue effort after an Iroquois crashed last year near Pukerua Bay, north of Wellington, killing three.
- NZPA