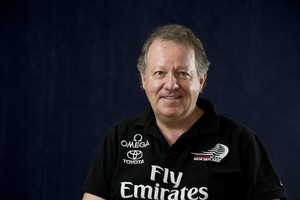 Swiss-Italian millionaire Matteo de Nora watched in horror as Team New Zealand sailors desperately bailed water from NZL-82 during the 2003 America's Cup challenge against Alinghi.
He saw the black boat's mast break and heard an anguished crew member yell, "This f****** boat", words caught by the microphones for all to hear.
Dr de Nora, watching from the water on his yacht Imagine, knew Team New Zealand was "better than that".
So started an unlikely alliance between the reclusive Monaco businessman and New Zealand - an eight-year, ongoing relationship in which Dr de Nora has ploughed millions of dollars and vast amounts of time into this country.
Apart from supporting Team New Zealand, he has funded private neurological medical research involving experts from around the world, including New Zealand.
Dr de Nora's contribution to yachting and medicine are today honoured as he is made a Companion of the New Zealand Order of Merit.
Speaking from Geneva yesterday, Dr de Nora said he took the honour very seriously.
"This just deepens the fact that New Zealand is my second country, next to Monaco."
Since committing to help Team New Zealand, Dr de Nora has spent big chunks of time at his Auckland apartment, within walking distance from the team's base at the Viaduct, rarely getting time to visit his holiday home in the Bay of Islands.
Instead, he runs his businesses by remote control, and talks almost daily to Team New Zealand's boss, Grant Dalton, whom he regards as a close friend.
He sees himself as an important part of the team, no more or less important than a sailmaker.
Since that disastrous America's Cup campaign, Dr de Nora, a Canadian citizen, has used his persuasive powers and organisational skills to enlist the support of a syndicate of wealthy America's Cup fans to make sure Team New Zealand can pay its bills and compete at an international level.
At the same time he has hand-picked a team of 100 doctors and other experts from 40 countries to be part of the Tinnitus Research Initiative, a foundation which he funds and which has helped cure people of the affliction.
Dr de Nora said he considered the Queen's Birthday Honour also recognised the members of Team New Zealand and those involved with the tinnitus research happening in New Zealand.
"I am happy with this," he said of the honour.
"Now we have to go all out and win this next America's Cup and continue with the research."