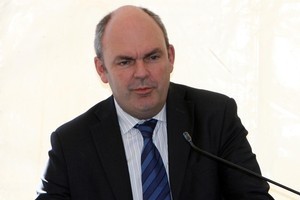 Tertiary Education Minister Steven Joyce has ordered a sweeping review of the industry training organisation (ITO) system, which receives about $180 million in taxpayer funding each year.
Mr Joyce has been highly critical of the ITOs for average course completion rates of only 31 per cent and claiming taxpayer money for people who are not in training.
Last month, 18 ITOs were forced to repay up to $4.3 million after an examination of their records for 2009. Eleven people listed as training turned out to be dead.
Mr Joyce said the Government changed the rules last year by introducing a cap on the amount of money for each trainee and requiring evidence that they had passed their courses.
He said the next step would be a wide-ranging review by the Ministry of Education, which was about to start and would probably take most of this year.
"I've said to the ministry that I want a full review of industry training - where has it come from, is it all being done the right way and where are we going - to ensure we get the best results out of it."
The review would cover the relationship between ITOs, course providers and employers and how New Zealand's system compared with other countries.
Industry Training Federation executive director Jeremy Baker welcomed the review, which he saw as a chance to integrate industry training better with the rest of the tertiary education system.
He said it would probably mean big changes but he did not expect the Government to scrap the ITO system, which produced 35,000 qualified people each year at a reasonable cost.
The Tertiary Education Commission, which investigated the ITOs' 2009 training lists, would not say how much money each ITO owed or how many ineligible trainees were involved.
David Nicholson, director of tertiary investment and monitoring, said 2 per cent or less of trainees were involved at 15 of the 18 organisations but the highest case involved 20 per cent of trainees.
The investigation found no evidence of criminal activity. If any evidence emerged, it would be passed to the police.
ITOs have blamed the overclaiming on poor record-keeping, including paper-based systems which often recorded a trainee signing up for a course but failed to record the same trainee dropping out.
Meanwhile, Mr Joyce said a special unit within the Qualifications Authority was keeping a close eye on fraud problems at private training establishments for international students.
"I'm keeping pretty close to it in terms of getting regular reports ... as to what they're doing and where they're going. They've certainly had encouragement from ministers to be a lot more proactive."
NZQA has advised the Government that it has found dishonest practices, particularly over the sale of qualifications and falsification of results.
"This appears to be a new trend," it warns. "There is the potential for such practices to continue and expand, if left unchecked."
Owners of schools for international students have told the Weekend Herald that the trend has been obvious for several years.
More than 150 international students gained fraudulent qualifications in less than a year from API Institute of Education, which closed last year. Almost half were "ghost" students, who paid for qualifications but never attended classes.
Last year Massey University's Albany campus had to get rid of about 50 students who enrolled in its business degree with fake diplomas from local schools.
Kingsland Institute has been barred from taking new students after two senior staff were charged with immigration fraud last July. In December licensed immigration adviser Chheogyal Lepcha admitted supplying false information to enrol a student. Director Donald Han has pleaded not guilty to charges of providing false and misleading information under the Immigration Act.