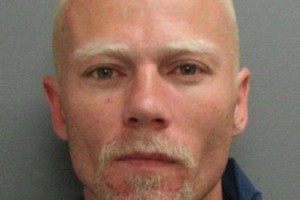 A serial escape artist known as "Houdini" is on the run again.
Police are hunting Aaron Stephen Forden after he escaped from
the Whangarei District Court yesterday morning, a few weeks after an
alleged two-month crime spree ended.
Forden is 29, 1.75m tall and of medium build.
He has short ginger hair and a goatee beard, but is known to change his appearance to evade detection.
He was last seen wearing a black long-sleeve jacket, black T-shirt, black jeans and black shoes.
Forden was appearing in court on violence and dishonesty charges and was in a secure interview room with his lawyer.
After about half an hour, the lawyer called guards to let them know the interview had finished and then left his client alone.
Forden allegedly forced a bar from the grill separating his area from the lawyer's room and then escaped.
Detective Senior Sergeant Dene Begbie warned people not to approach him, but to call the police instead.
The latest escape comes just three weeks after Forden was finally arrested over an alleged two-month crime spree, for which he was charged with ramming patrol cars, burgling homes and stealing cars.
To avoid capture, Forden drove into a police car repeatedly, causing the airbags to activate and trap the officers inside.
Another time, he was spotted driving a van in Kamo, but ran from the vehicle, leapt over a 2m fence and gave police the slip.
A police dog and handler were called and tracked Forden towards the Kamo bypass, but were unable to find him.
Later, armed police blocked off a rural road and searched cars and one house in a bid to find him.
He was eventually arrested after getting into a bar fight on May 11.
Forden has a history of escaping from jail.
In 2008, he used ropes and bed linen to climb from a tower at Mt Eden Prison over a barbed wire-topped wall to freedom - briefly.
The dangling rope was spotted by a staff member and a member of the public walking past the prison early in the morning.
Forden was on the run for three days but was captured after a dramatic high-speed police pursuit, in which he crashed a stolen car into stationary vehicles.
Anyone who has seen Aaron Forden can call Whangarei police on 09 430-4500.
MAY 2008
An audacious escape from Mt Eden Prison where Forden used rope made from knotted sheets to scale the stone walls and coiled barbed wire.
MARCH 2011
Arrest warrant issued for Forden after breaching bail. Managed to evade police for two months, in one instance repeatedly ramming a patrol car until the airbags burst and trapped the officers inside.
JUNE 2011
On the run again after escaping from the Whangarei District Court.
jared.savage@nzherald.co.nz