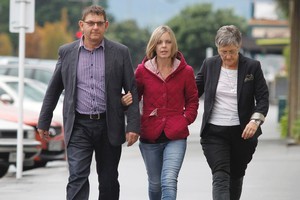 The family of slain Feilding farmer Scott Guy say they want to keep their heads down because they do not want to wreck the case against his accused killer.
Mr Guy, 31, was shot dead on the driveway of his home on July 8 last year. Last month, his brother-in-law Ewen Macdonald, 30, was charged with his murder.
Macdonald's barrister, Greg King, told the Palmerston North District Court that Macdonald would be pleading not guilty.
At Macdonald's initial appearance, Mr King said the defendant wanted to make clear that he denied the killing and that the murder was unsolved.
Yesterday, Mr King told the court there would be no need for a plea inquiry hearing because the charge would be defended.
Macdonald made no application for bail and was remanded in custody until August 3.
His wife, Anna Macdonald - Scott Guy's sister - was in court.
Macdonald's father, Kerry Macdonald, was also present.
When Ewen Macdonald first walked into court, he briefly looked at his family in the public gallery, then turned to face Judge Les Atkins.
He appeared calm and watched intently while Mr King spoke to the judge about legal matters.
Scott Guy's father, Bryan Guy, told the Herald he and his family were taking each day - and court appearance - as it came. "We're trying to keep our heads down."
After Macdonald's arrest, Mr Guy indicated the family would attend each appearance. He said that was unlikely to change. Yesterday's was no easier than the first, he said.
Mr Guy was reluctant to comment further for fear of jeopardising the case. All other details were suppressed.
Anna Macdonald, who is understood to have visited her husband in jail, has said she will support him until she sees any evidence of his guilt.