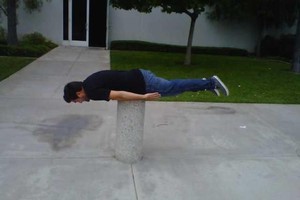 The 'planking' craze has hit a new low in New Zealand after a student was caught performing the act on a railway line in front of an oncoming train.
Planking is where a person lies down in a rigid position in awkward or unusual places, with photos often uploaded onto Facebook.
Authorities won't reveal where in New Zealand the train incident occurred.
Secondary Principals Association President Patrick Walsh has put out an advisory to schools and parents warning them of the dangers of the craze.
"It's not that the principals are opposed to planking but we've quickly discovered the more precarious and dangerous the planking is, the more kudos the students gain from it," he told Newstalk ZB.
Patrick Walsh says students caught performing dangerous acts could face suspension.
- Newstalk ZB