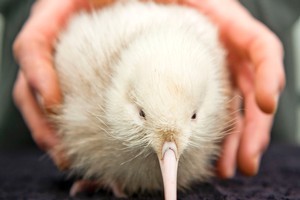 The first white kiwi chick to hatch in captivity is being looked after at a wildlife centre in the Wairarapa.
The chick, called Manukura, is an offspring of kiwi transferred from Hauturu/Little Barrier this year.
The name means "of chiefly status".
Manukura, born on May 1, is being hand-reared at Pukaha Mount Bruce's new kiwi nursery as part of a $1.4 million upgrade of the nocturnal house.
Visitors can see it being weighed daily and fed at 2pm.
It is the 13th of 14 kiwis successfully hatched at Pukaha Mount Bruce national wildlife centre this breeding season, the most successful since 2003 when kiwi were first introduced into the wild there.
Compared to this season's 14 chicks, between 2005 and 2010 a total of 10 chicks were hatched and returned to the forest.
"As far as we know, this is the first all-white chick to be hatched in captivity," Pukaha Mount Bruce Board chairman Bob Francis said.
Rangitane chief executive and Pukaha board member Jason Kerehi said tribal elders saw the white chick as a 'tohu' or sign of new beginnings.
The chicks are normally released when they weigh about one kilogram and are large enough to defend themselves in the forest but extra care will be needed with Manukura.
It would potentially be released into the sanctuary when it was old enough to protect itself but being a white kiwi it might be more vulnerable, Department of Conservation area manager Chris Lester said.
"We want to ensure that as many people as possible get a chance to see it, and that we keep it as safe as possible.
"We also recognise the need to take everything into account when deciding how best to keep Manukura safe," he said.
- NZPA