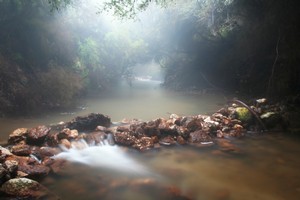 A 28-year-old Waikato man is lucky to be alive after disappearing down the Waiotapu Stream south of Rotorua at 3.30am this morning.
District operations manager, Inspector Scott Fraser, said the man had been drinking with his girlfriend at a swimming hole on the Waiotapu Stream, near the Waiotapu Thermal area, when he disappeared down the stream.
"He was described by others as being 'grossly intoxicated' at the time. As a result, there were real fears for his safety."
The man's disappearance sparked a search and rescue operation involving a police dog unit, Police Search and Rescue squad members, and Land SAR volunteers.
Mr Fraser said it was a challenging operation.
"The tight confines of the stream, which is surrounded by thick blackberry bushes, meant that staff had to be deployed in the stream itself to conduct the search," he said.
"We had swimmers in the water from 6.15am, such was the concern for the missing man. He was located shortly after 7am, making his way back up the stream.
"He is probably only alive today because the stream is thermal and reasonably warm, even some distance downstream from the hot pool."
Mr Fraser said the man was still very intoxicated when he was found and it was an "absolute miracle" he survived.
"Alcohol and swimming simply do not mix. This, coupled with the fact that it was pitch black, the middle of the night and in a dense bush area means his actions were a recipe for disaster.
"He has put his own safety at risk, but just as importantly, he has put the heath and safety of other people at risk in the course of looking for him.
Mr Fraser said it was the second time in a year the Rotorua Police Search and Rescue have searched for a missing person in the same stream.
"New Zealand has one of the worst drowning records in the developed world. We narrowly avoided another statistic today."
- Hearld Online staff