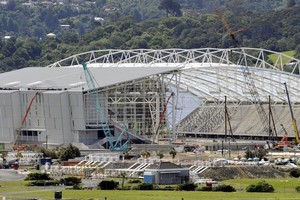 World Cup rugby fans planning a Mexican wave at the new Dunedin stadium are likely to get a stern telling off from police.
Parts of the new arena are only six metres from the playing surface, making it easy to throw things onto the field, police said.
"Fans often get the urge to do this during Mexican waves," said Inspector Al Dickie of Dunedin police.
"If there is any nonsense we plan to deal with it quickly and firmly and make sure it doesn't get out of hand," Mr Dickie said in the latest issue of the police magazine Ten One.
The new stadium was due to be completed in August and would host the first of four World Cup matches on September 10.
Because of stringent health and safety measures around the stadium during construction, police familiarisation visits had been limited.
Mr Dickie said two Otago matches in August would allow police to practise their policies before the World Cup.
The six-metre gap between the perimeter fence and the playing field was a "stand-out characteristic" of the stadium, while the steepness of the North Stand could also "be challenging in the event of arrests," he said.
Carisbrook, the city's main sporting venue since 1873, was the backup for the new stadium.
At 30,000 it had a similar capacity to the new stadium and police had developed plans for both venues, although the use of Carisbrook was "becoming increasingly remote," Mr Dickie said.
Police numbers for the games would be swelled by Maori wardens, up to 70 members of community patrols and 350 volunteer guides.
- NZPA