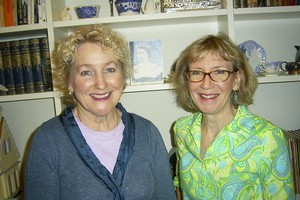 Jane Drumm remembers the devastating moment when she realised Malcolm Webster was trying to kill her sister.
The charming Scotsman disappeared after arguing with his wife, Felicity Drumm, about hundreds of thousands of dollars missing from their bank account as they prepared to buy a new house.
It was the couple's latest bit of bad luck. Fires had ruined two homes, and they had survived a motorway car crash that week.
Then Felicity's father found British insurance policies worth hundreds of thousands of pounds in her name in Webster's bedroom.
Eldest sister Jane Drumm joined him and realised Felicity's signature had been forged.
"I looked at her name and signature and knew it was forged. Her handwriting is quite distinctive; it hasn't changed since we were at school.
"As soon as I saw that, I knew he was intending to kill her."
Suddenly, everything fell into place. The mysterious fires in Scotland and New Zealand, the blackouts, the missing money, the car crash.
After seeing the evidence, Felicity went to the police in Takapuna.
"Felicity is amazing, just amazing, with how she coped with such a terrible situation," said Jane Drumm.
That was on February 19, 1999. More than 12 years later, the amiable Malcolm Webster, 51, was brought to justice in a 3-month trial in Glasgow.
He faces a life sentence for the murder of his first wife, Claire Morris, the attempted murder of Felicity Drumm and trying to marry a third wife while still married to Felicity.
Prosecutor Derek Ogg, QC, told the court Webster would go down as one of the "most notorious murderers of our modern times" with a "sadistic mentality".
"Malcolm Webster is a brilliant criminal genius with one flaw - he couldn't stop himself."
Felicity Drumm is not speaking publicly until exclusive stories in British media are published.
Jane Drumm, now the executive director of domestic violence organisation Shine, remembers the first time she spoke to Webster.
It was 1996 and Webster was engaged to Felicity after a whirlwind romance. They met working at a hospital in Saudi Arabia, but were going to be married in Auckland.
"He rang me up wanting my advice as the oldest sister. Would Felicity like some diamond and sapphire earrings as the 'something blue' to wear at the wedding ? I said: 'I don't know about her, but I would.'
"Immediately, he was on the charm offensive. That was Malcolm."
The wedding was held on the North Shore in April 1997, followed by a honeymoon at Cooks Beach on the Coromandel Peninsula.
Felicity later told the trial how she slept for 36 hours on the first night, after Webster gave her a cup of tea.
At the time, the family put the excessive sleeping down to exhaustion.
The pair then went to live in a rural cottage in Scotland, and shortly after, Felicity became pregnant.
Then a house fire destroyed all their possessions, and the couple decided to return to New Zealand with their newborn son.
They arrived in New Zealand in November 2008 and moved in with Felicity's parents, Edward and Margaret, on the North Shore.
The plan was to sell Felicity's freehold home in Auckland and Webster's cottage in Scotland so they could buy their dream house.
Then there was another fire, this time at night, in the home of Felicity's parents.
Mr Drumm doused the flames with buckets of water, while Webster strangely used a kettle, which he filled by flushing the toilet.
The property was not destroyed, but it was damaged badly enough for everyone to have to move out.
Driving over the Auckland Harbour Bridge to the bank in St Lukes on the day the couple were due to settle on their new house, Webster began to complain that the car steering was "wonky".
By the time he reached the North-Western Motorway, the car was apparently out of control and weaving across lanes.
The car began speeding up and heading towards a power pole on the passenger side, until Felicity reached across and pulled the steering wheel in a last-ditch attempt to avoid a crash.
The car missed the pole and came to rest on the motorway verge.
Webster then claimed to be having a heart attack, stopping Felicity making other arrangements to get to the bank. Instead, she went with him to the hospital.
But she asked Jane to retrieve some gear from the car, which was later taken to a tow-truck yard.
The towie told Jane and her husband, David, that there was nothing wrong with the car's steering.
A can of petrol was found in the boot, and a cigarette lighter inside the car. No one in the family smoked.
Over the next week the family discovered Webster had taken all Felicity's money from their joint bank account. Then Edward Drumm found the forged insurance policies.
"All the trauma in our family in that incredibly short period of time: the fire, the money and house problems, the crash. It was all explained," said Jane.
The next morning, Felicity went to the Takapuna police station and made a formal statement. Later, testing on her hair confirmed her suspicions that Webster had drugged her. She had been drugged all the way through her pregnancy.
Arrest warrants were issued for Webster in 2000, and he was later turned away at the border as he tried to come back into New Zealand.
Other than that, the trail went cold - and could have stayed that way had it not been for Jane Drumm and a chance encounter with a senior British police officer seven years later.
In recognition of her work on domestic violence, Jane was awarded a Winston Churchill Fellowship in 2006 to work with Leeds police to see how domestic violence cases were handled in the UK.
She stayed with a police superintendent, "a very kind, remarkable woman who looked like Helen Mirren, but younger and even prettier".
She told the police chief of the Webster saga and her plan to drive to Oban and confront him.
"She said, 'Don't do that ... You don't know what he'll do'."
Instead, Ms Drumm was interviewed in Leeds by detectives, who contacted police in Scotland who flew to meet her in Oxford.
"Then nothing happened."
But in 2008, police learned that Webster was engaged to be married for a third time. A team of Scottish detectives began investigating and unravelled the entire twisted plot.
They found Webster's first wife, Claire Morris, had died in a fiery car crash. At the time it was written off as an accident. But after Felicity's experience, the death was suspicious.
Tests on a preserved tissue sample showed traces of temazepam, a drug used for sedation.
This week, Webster was found guilty on all charges, including trying to bigamously marry a third wife.
"We are very relieved that this very traumatic event in our lives, which was dreadful for Felicity and our parents particularly, has now finished," said Jane Drumm.
"We are all delighted that he has been found guilty. Justice has been done and he will not be able to hurt any other woman."
Tears at graveside the masquerade of a monster
As tears rolled down their cheeks, they stood side by side with heads bowed.
Peter Morris reached out and clasped brother-in-law Malcolm Webster's hand in a poignant moment of support as the body of his sister Claire, Webster's wife, was lowered into the ground.
But as they paid their respects at the funeral, Mr Morris had no clue that the man whose hand he held so tightly was guilty of her murder.
Mr Morris first met Webster in 1991 at a family dinner and said his sister was "besotted with him".
He said he instantly took a liking to Webster and they became good friends.
"I guess I was naive. I took to him straight away. He came across a little bit cheeky and roguish, which I liked. We had the same kind of humour. He seemed like an intelligent, pleasant and caring man. I did approve."
Mr Morris said he now realised there were warning signs the family did not see.
He recalled how Webster would say Claire was sleeping when family members phoned the Aberdeenshire cottage they shared.
"I have gone through the feeling of guilt and thought, 'Why were we not suspicious enough?' We might have been able to save Claire if we had done or said something."
Mr Morris said the loss of his sister and the truth behind her death would live with him forever.
For 14 years the family were led to believe Claire's death was a tragic accident.
They travelled to the northeast of Scotland for her funeral on June 7, 1994, days after the fatal crash.
"It was a very difficult day. She was so young when she died and we were all just devastated.
"Malcolm stood next to me as they laid Claire to rest and we both had tears rolling down our faces.
"It was heartbreaking and in the moment I held his hand as support. We shared that moment and he made us believe he was grieving," said Mr Morris.
"Now, looking back, it makes me feel sick.
"It takes a monster to kill someone. He was charming and put on this front but yet he was a pathological liar and has all the traits of a psychopath."
After Webster was found guilty of the murder, Mr Morris said the family had seen justice served and could now, finally, have closure.
Gavin Roberts, Aberdeen Evening Express