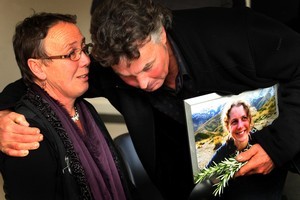 The mother of a Lower Hutt teacher shot dead by a man illegally spotlighting slammed his accomplices as "inhumane cowards" for fleeing the scene without offering any assistance to her fatally wounded daughter.
Margaret McFarlane held sprigs of rosemary and a picture of her daughter, Rosemary Ives, as the three men involved in a night of spotlighting during which her daughter was killed last year were sentenced in the Taupo District Court yesterday.
Brad Ward Bennett and Ashley Paul Wolland, both 27, and Kyle Raymond Dean, 18, yesterday pleaded guilty to a charge of breaching their DoC permits by hunting after dark at a Kaimanawa Forest Park campground near Turangi last October.
The trio were spotlighting for deer with Andrew Mears, who mistook Ms Ives' head torch for a deer's eyes.
Mears was sent to prison for two-and-a-half years in February after he pleaded guilty to Ms Ives' manslaughter.
Ms McFarlane, who was joined by Ms Ives' father Malcolm Ives and her brother Hamish McFarlane, said the group were part of a "macho, arrogant shooting and hunt fraternity" that had little heed for anybody else's safety or rights.
She said the men were equally as culpable as Mears for her daughter's death but had let their friend take the blame.
"You can only start to imagine our anguish that our gentle, gun-hating Rose has been the most gentle, undeserving target of illegal and irresponsible, stupid shooters."
She said Ms Ives' boyfriend, Adam Hyndman, first thought that the shot from Mears' .243 Remington rifle was a firecracker as the couple brushed their teeth at a DoC camping ground.
"Then he heard the thud of Rose hitting the ground," she said.
"He quickly ran to her and crouched over her shouting 'you have f***ing shot her'."
Mr Hyndman then had a spotlight shone in his face.
Ms McFarlane said he feared that he would be shot as well.
She said he asked the men to call an ambulance but "under the pretext of getting cellphone coverage" the group went to their campsite 5km away.
"Not one of you got off or out of that truck and ran a few metres to give immediate first aid to my daughter and to assist Adam.
"One of you was so unaware of your surroundings that you didn't realise that you were in a camping ground and drove off thinking you had left Adam and Rose alone in the bush. Cowards, inhumane cowards."
Ms Ives died almost immediately despite Mr Hyndman's frantic 90-minute effort to save her.
Yesterday, Department of Conservation prosecutor Mike Bodie said Mears alone was responsible for failing to identify his target before firing his weapon.
But the others "provided encouragement, support and assistance in the circumstances that led to that terrible mistake". Wolland, the driver, provided the two-door Toyota Hilux, which had four fixed spotlights and a hand-held mobile spotlight.
Dean, who had never been deer stalking, held the mobile spotlight while Bennett assisted the group by looking for targets as they drove along the road.
The lawyer representing the three, Roger Laybourn, said their culpability should be significantly less than that of Mears.
He said the men had immediately entered guilty pleas, were extremely remorseful and profoundly affected by the incident.
Judge Phillip Cooper said that the men's spotlighting happened in a popular area for campers at the start of Labour Weekend when it was clear that other people would be in thevicinity.
Judge Phillip Cooper fined each of the Hamilton men $2500.