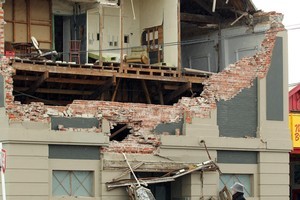 Specialisation in the trades that service the building industry offers a route to early employment for young people soon to enter the employment market.
Although building consents have hit their lowest level since 1981, according to the Department of Statistics, and the industry is in a third year of recession, trade specialisation looks a sure thing going forward.
The reasons are the flow of reconstruction work being planned for Christchurch, weathertight building remediation and normal workflows which may start to pick up as the economy recovers.
Industry task forces, government planners, educationists and research organisations are all focused on finding means of ensuring there are sufficient skilled tradespeople on hand to cope with the potential workload.
On current estimates the building and construction industry is going to face nearly a doubling of its present workload from today's value of nearly $8 billion a year.
This translates into a huge and rapid demand for specialist trades to support such an increase in an industry that at present employs about 77,000 people.
It will be a demand that also embraces a requirement for university-qualified management students with planning and supervisory skills that can be used in or adapted to the requirements of on- and off-site project management.
Industry projections that are still being refined tell us that the demand will encompass thousands of electricians, carpenters and builders, builders' labourers, painters, tilers and floorers, plumbers and drainlayers, plasterers, bricklayers, glaziers and concreters.
In traditional professional areas quantity surveyors, engineers and designers will be in demand.
The numbers vary in each category but the country is likely to need in excess of 4000 new qualified painters, 3000 new electricians, 4000 plumbers and drainlayers, 3000 tilers and floorers and many roofers, glaziers and plasterers.
A major and as yet unanswered question is whether there can be sufficient numbers trained and equipped with the right skills to meet the demand as it builds. Already shortages of painters are showing up in Christchurch.
It is ironic, at the same this demand is likely to come on stream, that requirements for qualifications under the designation of Licensed Building Practitioners is being implemented.
Industry leaders have stressed to the Government there should be no diminution of these qualifications in the wake of the rising demand for tradesmen.
This move towards a more rigorous qualifications framework preceded the Canterbury earthquakes and was an early response by the industry and Building and Construction Minister Maurice Williamson to the leaky buildings crisis.
It is a basic element of consumer protection. A key question is whether the industry training organisations and the tertiary sector can upskill enough fresh entrants to the industry in time to meet demand.
While it is apparent the Government and training organisations would prefer the labour shortfall to be met from within New Zealand, there has to be doubts this can be achieved.
Immigration could prove the most viable means of supplementing local recruitment.
For example, the building industry in Ireland is at rock bottom because of recession there.
It has an abundance of skilled tradesmen out of work.
Their availability will become especially appealing if skills shortages mean an inflationary rise in the costs of earthquake recovery and leaky building remediation because demand is far ahead of the labour market's ability to supply, with a ripple effect on the cost of new home building.
The fact that excellent research work by Branz, the Built Environment Training Organisation (Beta) and the Construction Strategy Group (CSG) has starkly shown up the looming crisis in specialist trades numbers provides a window of opportunity to address the problem locally.
But it is a time-short window, which will be exacerbated by impatience in Canterbury if the pace of structural recovery is considered too slow, with labour-skills shortages a key factor.
There is no firm projection of when this skills demand will begin to bite. But by September it is likely to be very much in evidence.
-
Bruce Kohn is chief executive of the Building Industry Federation.