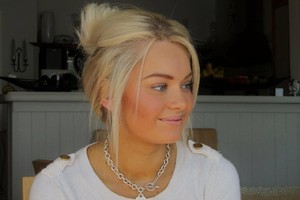 Police are waiting for toxicology tests to find what killed Emily Longley. Photo / Supplied
Facebook tribute pages to dead student Emily Longley - including one with more than 16,000 members - have been removed after they were defaced with lewd photos and nasty comments.
The 17-year-old aspiring model's parents, Mark and Caroline Longley, travelled from New Zealand to the UK where she died in what police have calling "unexplained circumstances".
Her body was found in her former boyfriend Elliot Turner's parents' home in Bournemouth, south England.
The 19-year-old and another youth, aged 17, were arrested but not charged and have been released on bail.
Miss Longley's case attracted an outpouring of sympathy and support online, as wellwishers - even many who did not know her - left messages for her to rest in peace.
A Facebook page dedicated to Miss Longley had 16,367 members yesterday - before it was removed, along with another tribute page and her profile earlier this week following disrespectful comments and images.
But more Facebook pages have sprung up after them, including "Tribute to Emily Longley", which had almost 2000 members last night.
"May god watch over you as you watch over us beautiful angel.
"You may be gone but your memory will never be forgotten by all. RIP Emily, another angel gone too soon x," posted the administrator of the page.
Meanwhile, a fund with a target of $35,000 has been set up to help with expenses for Emily's family.
The Longley Family Trust had raised $570 by last night.
Seven people had given money, including Sue and Jay Goodwin who gave $300 and left the message: "Thinking of you Caroline and family at this sad time.
"Also thanks to the people who set up this trust so those of us feeling helpless overseas feel they can do something."
The trust's website said the aim was to help the family cope with travel and funeral expenses.
Any money left over would be used "to provide for their physical and emotional wellbeing and that of their daughter Hannah as they come to terms with the loss of their daughter".
The money may also be given to a charity of their choice.
A friend, Emma Ross, also an aspiring model, said she had given a statement to police and complained about "lies" in the media.
Another friend, Holly Turner, pleaded on Facebook that everybody "ignore everything you see in the press".
"I am in very close contact with the family and they have decided to stop looking at the press and Facebook because it is only upsetting them more.
"Please, I ask of everyone the media tries to contact, do not give them any information.
"Everything has already been said and now they are only making up more lies to make a story out of it," Miss Turner said.
The Queenswood Ave home was still cordoned off by police yesterday. They are awaiting toxicology results, which may take weeks, to find out why Miss Longley died.
She is thought to have drunk cocktails on a night out, and taken drugs.
Contributions can be made via the Facebook fundraising page longleyfamilytrust.com
additional reporting: Michael Dickison