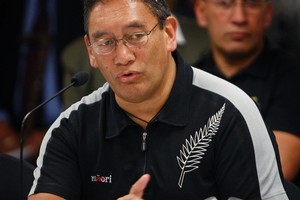 Hone Harawira has just resigned from Parliament, paving the way for a by-election in his Te Tai Tokerau electorate.
His resignation takes effect on May 20 - just more than the by-election cut off date of six months before a general election.
Labour has announced it will stand MP Kelvin Davis against Harawira in the predicted election battle, which the party has criticised as expensive and wasteful.
The Maori Party will also contest the election, but it has not yet named its candidate.
Several high-profile Northland names have been speculated on as candidates, including broadcaster and actor Waihoroi Shortland, Ngati Hine lawyer Mere Mangu, Ngati Whatua chairwoman and health advocate Naida Glavish and Ngati Hine Runanga secretary and educationalist Pita Tipene.
Ms Mangu said it was "a possibility" she was interested but decisions were still being made.
Naida Glavish would not comment until she had spoken to party officials and Pita Tipene said he had been approached by some local party members, but not officially.
- NZ Herald staff