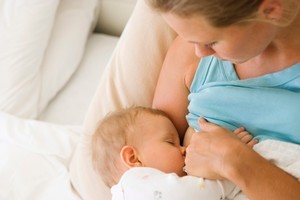 A multi-million Government funding boost is set to go toward giving new mothers extra Plunket visits in the first months of their babies' lives.
The Government today revealed the 2011 Budget would include $54.5 million in extra money for services to help mothers and their babies.
More than $21 million of that would go toward WellChild services - which provides free health checks and support during the first five years of a baby's life.
The additional funding would allow WellChild staff to pay 54,000 extra visits to around 18,000 mothers in the first two months of their baby's life.
New mothers would receive an average of three extra Plunket visits.
Plunket chief executive Jenny Prince said the funding boost would make a lasting difference to New Zealand.
Not getting the right amount of support and attention in childhood led to problems later in life, she said.
"We need to concentrate effort on ensuring that families have the support they need to raise New Zealand's future generations. Focusing on giving our children the best start in life is vital in helping us create a better society.
"This funding is targeted in the right places and will see a better return on government spending."
Plunket had been campaigning for extra investment in under-fives for many years, Ms Prince said.
Health Minister Tony Ryall said the additional funding would ensure new mothers get the support they need.
"These three additional WellChild visits will ensure a smoother handover from midwives to WellChild providers.
"We all want the best possible services to protect the safety of mothers and babies."
The other $33.2 million of the extra investment in the Budget 2011 would go towards a variety of maternity services, Mr Ryall said.
More than $18 million would go toward bringing maternity professionals together for clinical reviews of all births and increasing the number of midwives on hand in hospitals, he said.
A further $6 million is earmarked for parent information services and $6.8 million for health and social services for vulnerable mothers.
One-off funding of $2 million would ensure all DHB maternity data is collected nationally.
- NZHERALD STAFF