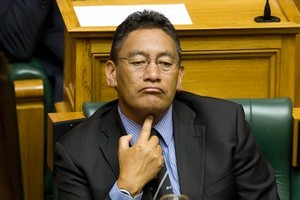 Independent MP Hone Harawira spent $43,000 on travel in three months - nearly as much as the entire Maori Party's bill of $44,410.
The remote parts of Harawira's Northland electorate can be expensive to reach but the figure stood out in MP and Ministerial spending released yesterday.
MPs and ministers spent a million dollars less on travel and accommodation in the first three months of this year compared to the last quarter of 2010.
From the beginning of January until the end of March MPs spent $1.49 million while ministers spent $1.46 million - a combined total just short of $3 million.
That figure is less than the almost $4 million spent in the last three months of 2010, where ministers spent nearly $2 million and MPs slightly less.
The Greens' spending was a few thousand down at $142,154 and the Maori Party's was more than halved at $44,410 but that was largely due to no longer counting Hone Harawira, who is now an independent.
This quarter's travel spending for Act was down to $39,754, $20,000 less than the previous quarter.
Both the big parties cut back - Labour's spending was down $220,000 to $658,943 and National's was down $195,000 to $539,132.
Independent MP Chris Carter, who got into hot water when a Labour MP over his travel, spent $17,463 compared to $25,678 the previous quarter.
United Future's Peter Dunne spent $441 (down from $3000) and Progressive leader Jim Anderton's bill was $13,682, down from $17,361.
Ministerial spending was also down. It was $1,997,962 at the end of last year and in the latest figures was $1.46m.
Act ministers spent a bit less to the previous quarter at $67,645 as did the Maori Party ministers who spent $128,403.
United Future leader Peter Dunne spent nearly $40,000 which included $27,145 in international travel. The previous quarter his bill was $21,847.
National ministers spent $1.25m, down from about $1.7m on the previous quarter.
In recent years the public release of MP and Ministerial spending has embarrassed a number of politicians.
Last year, Shane Jones was shamed for hiring porn movies on his credit card and in 2009, the then Act leader Rodney Hide used his MP's travel privileges to take his girlfriend on an overseas tour which cost more than $25,000.
That was despite Prime Minister John Key telling ministers not to take partners at taxpayer expense.
- staff reporter, NZPA