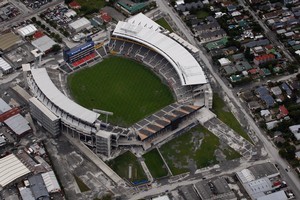 Despite losing its World Cup matches to earthquake damage, Christchurch plans to put on a full programme during the tournament with a budget of just over $1 million.
The city's AMI Stadium recently had a $60 million upgrade that won't now be used for the World Cup, and about $30,000 spent on planning by the city council has been wasted.
An official fan zone was planned for Cathedral Square until the February 22 earthquake badly damaged the cathedral.
Now plans for the fan zone have been revived with north Hagley Park as the venue.
"The matches will not be played in our city, but the rugby and community spirit in Christchurch is sure to be strong," said city council marketing manager Richard Stokes.
"It will be a place for people to come together to watch the matches and enjoy other entertainment."
The All Blacks decided to train in Christchurch after the city lost its World Cup matches, and they will be the focus of many events.
The city council will provide $794,000 and the Lotteries Fund a further $250,000 for entertainment, information and the screening of matches throughout the tournament.
Environment Canterbury had budgeted $250,000 to provide free transport during the World Cup, but the money has been spent on transport costs during the earthquake recovery.
A city council spokeswoman said many corporate sponsors had contacted the council to offer their support "to produce something special in Christchurch".
"We are planning with them and very appreciative of their support," she said.
In spite of all the disruptions, only two of 32 events involving Christchurch have been cancelled.
"Some reorganisation may be required but there is a real determination that the city will not miss out," said the Minister of Internal Affairs, Nathan Guy.
The city council said it would also help to host team representatives, plan opportunities for them to interact with the local community and contribute to a community engagement and schools programme.