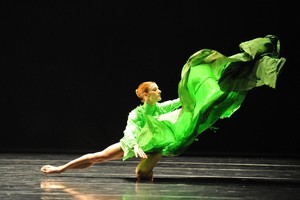 On Pieter Symonds' mantelpiece stands a small glass statue. It's not simply an ornament bought at a local boot sale - it's the embodiment of more than 20 years of hard graft, drained muscles and aching feet.
In short, it reflects her work with the world-renowned Rambert Dance Company in London, with whom she has been dancing for seven years.
The 2010 Critics' Circle Award, which she won in January, is mentioned almost as an afterthought by the lithe dancer as she snuggles into the sofa in her Putney home on a cold and rainy morning.
Sipping a cup of gumboot tea and nibbling a biscuit, she offers profuse apologies that there's nothing homemade on offer. She swears she does a good gluten-free cake, but I'm rather thankful for the Jammy Dodger.
Dressed in bright-red tights and a woollen cardigan dress, Symonds comes across as a graceful character. Whether it be making tea or rolling one of her micro cigarettes - "a dancer's vice" - Symonds seems to glide. But just as you think she's all too delicate she breaks out this raucous, slightly dirty laugh.
"I had a five-hour workshop yesterday so last night called for some wine, rather than baking," she says with a wink.
When quizzed about her award, she says: "That was pretty nice."
But let's be clear here: she won it over all the other national and international dancers from all the other companies throughout the United Kingdom.
"OK," she concedes. "It's a great thing. It's a pretty good feeling that it all came together and people did notice.
"Winning one of these was always on my list of things I wanted to achieve but I didn't expect to win so I didn't prepare a speech for the awards night.
"I just kept knocking back the champagne. So when I got up there after my name was announced I was, well, speechless."
Her reviews in the UK have been phenomenal, she says. But in Invercargill they were not so warm.
When she did Carmen, while guesting for the Royal NZ Ballet last year, one comment on the company's forum by a reviewer said she wasn't impressed with the dancer's borderline anorexic physique.
Symonds laughs it off: "I can slay 'em in the UK but, in Invercargill, I just wasn't good enough."
Awards are not foremost in her mind right now. Symonds, 33, is still reeling from the shock of the February earthquake in Christchurch, where her family still live.
On tour in Scotland when the quake struck, Symonds says she felt helpless and about as far away as you could get from her parents, Carol and Daryl, and brothers Hamish, 38, and Jeremy, 35.
"I woke up to a text from a friend saying she hoped my family was all right. I jumped up and put on the TV and my stomach just dropped.
"I was in disbelief and shock looking at the images of Christchurch."
Thankfully, Symonds' mother was able to send a message that all the family were unhurt.
The suffering of the city has made Symonds put her New Zealand wedding plans on hold.
She and fiance Simon Cooper, 40, a rehearsal director with Rambert, are tying the knot at the fashionable Chelsea Register Office in July.
It was to be followed by a big bash at home in Christchurch for the New Zealand contingent who couldn't make it to the London celebrations.
"I just don't feel it's right to be celebrating when there's been so much sadness and destruction," she says.
"My dad says friends and family need something to look forward to but I don't know. It's too early to think about it while people are rebuilding their homes, their lives. It'll happen, I just don't know when."
She met Cooper in 2005 when he was a dancer with Rambert. They were friends first but it was when they partnered up while dancing the company's production of Swamp - "we like to say we met in the swamp" - that the flames were lit.
It's a cliche, she laughs, but it was impossible not to fall in love with him once they were partnered in the production.
Four years later, at her father's place in Taylor's Mistake in Christchurch, on Christmas Eve 2009, Cooper popped the question. "I'm so behind in all the wedding plans. There's no end to the list of stuff you have to do," Symonds says. "And there's no pleasing everyone. There's definitely something to be said for eloping."
By the end of that day, I get a text saying she's booked the honeymoon - a week in Cyprus.
At least she has her priorities right.
Symonds has come a long way from the girl who started pirouetting at the Christine McDonnell Ballet School in Christchurch when she was only 8.
In 1994, at 17, she was accepted into the New Zealand School of Dance. Leaving Christchurch for Wellington was a big step for the young ballerina.
"It was difficult for me that first year. I hated being away from home and family. I was so close to my family and I was lonely living in a boarding house.
"I was really shy and had bad social skills so I just locked myself away in my room.
"My emotional state really affected me. I didn't eat very well and I got a lot of injuries that year. But the way I got through it was to keep on dancing. Keep on working.
"I had a goal, an aim. I'm a terrible over-achiever and I hate failing. I put pressure on myself; that's how I got through the tough times."
Symonds is an odd dichotomy in that her steely determination seems almost palpable yet, when she's not talking dance, she comes across gentle as a lamb.
After two years at the school she won the Shell Scholarship for the Royal New Zealand Ballet and, before completing her diploma, joined the corps de ballet.
"It was a shock starting with the company," she says. "I was used to being driven by teachers but you really had to push yourself and prove yourself with the company."
Many of the older dancers left in her early years, leaving the stage free for Symonds to take on some leading roles.
Eight years went by in a flash.
"I really grew up there. They were beautiful people. There are so many horror stories you hear about some of the bigger companies, like the English National Ballet where there are 60 to 70 dancers, as opposed to 32 in the Royal NZ Ballet, all competing for parts.
"If you want to be seen in those companies, you really have to stand out either technically or emotionally or in some sort of behavioural aspect.
"I was lucky starting my career with such a close-knit group."
Gary Harris, a former artistic director of the Royal NZ Ballet, describes Symonds as a physically and technically strong dancer. "She always excelled in contemporary dance and was always up for those roles, rather than being stuck in a tutu."
Harris recalls seeing her perform in Soldatenmis, a work choreographed by Jiri Kylian and performed in 1998.
"Pieter was the only female dancing with 11 male dancers. She's so strong. The way she can just chuck herself around the dance floor - it makes her perfect for the Rambert Dance Company. It was a really good move for her.
"Pieter's mad, in a good way, and neurotic - dancers, you know. But she's also such a hard worker. She's a real grafter.
"She's the kind of dancer who comes in early and goes home late. She'll work and work on something until she knows she's absolutely nailed it."
The seeds of the ambition to perform with Rambert, Britain's oldest contemporary dance company, were sown in Symonds' early years at the Royal NZ Ballet. In her fourth year at the company, the artistic director at the time, Matz Skoog, told her he could see her as a dancer with Rambert.
"It really surprised me that he thought I could really make it with a company like that. But I was ecstatic.
"I used to read all the dance magazines and I always thought Rambert dancers looked the coolest," she adds, with a cackle of that dirty laugh again.
In December 2003, Symonds embarked on an audition tour in Europe but didn't include Rambert in the mix because she didn't think she was good enough.
She tried out for, among others, the Gothenburg and Scottish ballets as well as the Dutch National Ballet - "though they just scared me silly".
"I was used to the intimacy of a mid-sized company. This large company made me feel anonymous.
"There were lots of cliques, fighting for attention and no doubt too much internal politics."
She was about to accept a position with the Scottish Ballet when she got a call from Mark Baldwin, the Fiji-born, Auckland-raised artistic director of Rambert.
"Someone had left and he was just offering a position to me on a plate. I couldn't quite believe it."
Rambert was very much focused on contemporary dance but by now Symonds was ready for a change of direction.
Baldwin, a former Royal NZ Ballet and Rambert dancer before he later became the company's artistic director, says he'd been interested in Symonds since she was a principal in Ihi FrENZy at the Royal NZ Ballet in 2001.
"She has amazing qualities. She's very dramatic and technically exquisite. In her personality and as a dancer, she's a force to be reckoned with."
Baldwin says he received a letter from Symonds after he'd worked on Ihi FrENZy with the company saying she was ready for a change and a challenge and that she was interested in Rambert.
"I really respected that. When a place came up I immediately thought of her.
"Pieter has this amazing gravitas and weight to her performance. She knows how to dance a story."
Seeing Symonds in action, it's easy to see why Harris and Baldwin are so full of praise.
She has just finished touring in Wales and Brighton with Rambert, and she's back in their Chiswick studios to rehearse for their next run at Sadler's Wells in London.
Dressed in a tiny pair of shorts and a loose top, you can see every muscle in her legs.
For their morning session, she's helping Cooper teach her understudy a dance choreographed by Tim Rushton, the artistic director of the Danish Dance Theatre.
It's a beautiful piece but you can see why she needs those muscles. The amount of lifting and hurling about calls for serious strength.
Yet, as Harris and Baldwin have vouched, Symonds makes it look almost effortless.
Her understudy isn't convinced she can pull it off at first but, by the end of the day, through relentless efforts and her teacher's perseverance rubbing off, it all comes together.
Strong and highly skilled as Symonds may be, dancing with the 22-strong Rambert Dance Company remains a high-energy job.
Rambert is known for its collaborative approach to working with choreographers, composers and designers - a recipe for chaos at times, Symonds says, but that's what makes the company unique and ultimately so good.
But, as Harris says, just how long can you chuck yourself around the stage for a living?
Dusting off her award on the mantel back at her home, she says there's a bit of a joke about it being a retirement award - "get out now while you still getting it right".
But Symonds is a long way off taking her last bow.
There's a lot more life in the girl yet, she says, rolling another ciggie.
"At some point I want to have children but I've still got a bit of time on my side."
When she does call it a day she'll probably teach Pilates, having just gained the necessary papers.
Until then, she'll be giving reviewers a few more column inches to write.