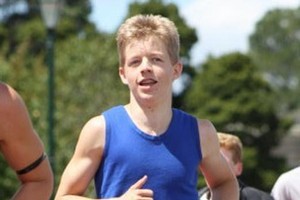 Parents are being encouraged to sit down with their teenagers and explain the dangers of binge drinking in a bid to prevent another tragedy like the one that claimed the life of 16-year-old James Webster.
The King's College boarder died last May from acute alcohol poisoning after a night of heavy drinking at a friend's birthday party in Auckland.
His parents had planned to talk to him about the dangers of drinking but were "about three weeks too late".
Now other families are being asked to learn from their tragedy.
Coroner Gordon Matenga yesterday released his inquest findings into James' death with a reminder to all parents and young people that "alcohol can be a dangerous drug".
Mr Matenga said he was satisfied with the actions of adults involved in James' care - both at the party and when he was taken to a parent's home to sleep it off. He was instead found dead in bed the next morning.
"I am satisfied that the adults did what they thought should be done and that their actions were both reasonable and understandable. Unfortunately for James, that was not enough to save him from himself."
Mr Matenga said James drank liquor quickly and secretively in such a way that he was able to hide his behaviour from the party hosts.
"In so doing, he placed himself in this precarious position."
The coroner recommended families promote alcohol awareness at home, and schools develop resources to assist and support parents in teaching young people about being safe with alcohol.
Donald Webster, a spokesman for James' parents, Charles and Penny, said they had planned to talk to him about drinking as he had just started to become more socially active and gained his driver's licence.
"They were going to have the big talk about alcohol and all the dangers - they were about three weeks too late. I'm sure they are beating themselves up about that on a daily basis."
Now they are encouraging others to educate their children early.
"You cannot start this too soon. Even at an intermediate-school age our children should be taught at home what social drinking is all about - the dangers of the standard drinks and the perils of straight spirits, how much alcohol can kill you."
Mr Webster said the family were slightly disappointed the coroner did not take the opportunity to "hammer home a bit harder the effects of teenage drinking" in his findings.
They were also frustrated that adults at the party tried to handle the situation on their own, instead of calling an ambulance, as a bouncer had suggested.
"James did get himself into this mess ... and we accept that, but the people around him who could have made better decisions that night didn't and we say that's down to education."
Mr Webster said alcohol education at school needed to be harder-hitting.
"These issues should be confronted head on. Schools have health education programmes in place. They teach our kids about sex and drugs. I think they also teach them about alcohol, but I don't think it's getting through.
"The parents' role [in educating their children] is extreme - right out in front - but that doesn't detract from the fact schools should be too."
Former Auckland City mayor John Banks, whose son Alexander attended the party and encouraged James to drink, said he also hoped lessons could be learned from the death.
"We need to learn the hard lessons and we need to teach our young people at a very early age not just the dangers of binge drinking but how to manage someone in a semi-conscious state of alcohol poisoning."
Mr Banks said he sent his son on a five-day first aid course the day after he heard what had happened.
"If he knew then what he knows today, James might still be alive."
King's puts advice on paper
King's College is preparing an information booklet to help guide parents through some of the social challenges of raising teenagers.
The booklet is one of a number of initiatives the private school has taken on since 16-year-old student James Webster died last year.
Headmaster Bradley Fenner said the school reviewed the alcohol-related education it was providing and found room for improvement.
"We don't for a moment shy away from our responsibility to educate our students about these sorts of things and like most schools we have an alcohol and drug education programme.
"One of the things we did in response to all this was conduct a review into that and also what we could do in terms of providing advice and support to parents."
The review found the alcohol-related education was being delivered in many parts of the curriculum so work is now being done on developing a more sequenced approach.
Work is also under way on providing suggestions for parents on managing the social life of teenagers, which often includes many challenging situations and issues.
"We are developing our own set of guidelines, which we will be distributing to parents within the next month, just to provide some advice because I think a lot of parents are looking for that."
"Obviously at the end of the day it's a parent's choice as to what they want to do but I think any advice we can offer will be well received," Mr Fenner said.
The guidelines have partly been produced by an Australian adolescence psychologist who was brought into the school last week to talk to 300 parents about the challenges teenagers can face, including how to deal with alcohol.
King's has also brought in a speaker from the Foundation for Alcohol and Drug Education to talk to students.
What young drinkers need to know:
Drinking 250ml or more of 40 per cent spirits over an hour can be fatal, even if the person doesn't initially feel drunk.
If a person becomes unconscious, the safest first aid intervention is to call for an ambulance.
If medical help isn't available, someone needs to keep watch over the unconscious person until he or she has recovered.