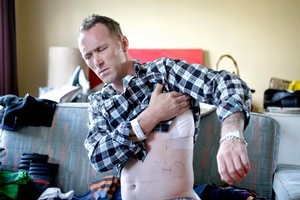 A man stabbed at a party is praising the quick actions of his brother, who bundled him into a car and rushed him to hospital.
C.J. was visiting a friend in Torbay, on Auckland's North Shore, on Friday night when he says he was stabbed by a man who was free on bail.
The 31-year-old, who did not want his last name published, described how the blow to his left side felt at first like a punch in the ribs.
"It was just like a whack to the chest. After I pushed him away, I stepped away and it felt really warm on my side. There was a hole in my shirt and I could see blood."
He said the incident started when he, his brother and his brother's friend Edward turned up at the friend's place about 9pm.
C.J. said another man showed up but was not welcome at the house and he asked him to leave.
The man ran inside the house and disappeared. C.J. said he checked inside before walking down the outside and finding him in some bushes.
"I put my hand on his arm and as I lifted my [other] arm to point down to the road, I said, 'Dude, you have to go.' I felt this whack in my ribs."
C.J. had two puncture holes in his side and was losing blood fast.
He was able to walk a short distance before the blood loss caused him to "bail over". His brother and Edward put him in a car and drove him to North Shore Hospital.
"If it hadn't been for him and Ed acting quickly, I don't know if I would be around." He discharged himself yesterday and is now at home.
C.J. is grateful to his sister, Kim, a trainee nurse who is looking after him.
"My family are amazing when it comes to taking care of me."
A 24-year-old man charged with wounding with intent to cause grievous bodily harm will reappear in the North Shore District Court today for a bail hearing.