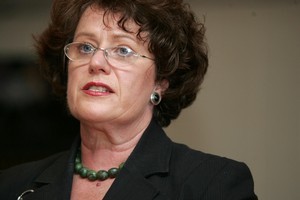 Former Auckland Central MP Judith Tizard will not return to Parliament on Labour's list.
Ms Tizard announced her decision on TV One's Q & A programme today.
She told interviewer Guyon Espiner that Labour leader Phil Goff sounded "like he was chewing on dead rats" when he told her that it was her decision and she would be welcome back.
The Labour vacancy has come about through the resignation of list MP and former party Whip Darren Hughes.
Mr Hughes resigned from Parliament last week after it was revealed an 18-year-old man made a complaint to police about an alleged sexual incident after a night out drinking. Mr Hughes has denied any wrongdoing.
Ms Tizard lost her Auckland central seat in the 2008 election.
The next person on Labour's list is former Taupo MP Mark Burton, but he said today he would not be returning to Parliament.
"I have given careful thought to the constitutional, political and personal factors," he said.
"I will not be returning to Parliament.
"I have not spoken with the party president or the former party president about this decision. I informed the party leader on Friday that this would be my decision should the question arise."
Mr Burton said he would not be making any further comment.
Labour leader Phil Goff said he respects Ms Tizard's decision.
"I accept her reasons for making that decision.
"I have the sense that the other former MPs, while happy to be asked, have moved on in their lives", he said.
"Each will be given the opportunity to make their own decision, but it is likely that the former MP who comes back will end up being Louisa Wall, Labour's candidate in Manurewa.
"Louisa is a young and energetic person with a strong future in politics", said Mr Goff.
- NZPA