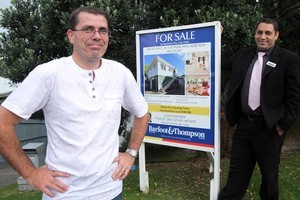 After going through a divorce, Phillip Jagger is desperate to sell his home - and he's telling the nation on Trade Me.
"Ex-wife wants more money ... MUST SELL!" were the words above the advert for his property on Auckland's North Shore.
Barfoot & Thompson agent Shane Maddren said he was trying to sell 235 Rangatira Rd for nine months using the slogan "Three-bedroom home do-up".
After no bites he raised the bar. As well as the eye-catching slogan he wrote a poem about the house, including details of a shed, mower and barbecue that will be "thrown in" free.
"Urgency sells and if it's different it stands out," Maddren said. "People will remember it. With this story it catches them and brings them in a bit more."
Jagger is not the only homeowner using such tactics to lure buyers through Trade Me.
Bruce McLuckie listed his Tairua property with First National and Tairua Real Estate for five weeks but had no expressions of interest.
He suggested they advertise the $324,000 property with free petrol vouchers, but both agents refused. Now McLuckie is advertising privately with the slogan, "A BONUS ... includes $2000 petrol".
"We've been inundated. It hasn't sold the place but it's working," McLuckie said.
One slogan for a home on Auckland's North Shore read: "They've trashed it. We've kicked the tenants out before they stuff it completely". The wording was later changed to "Safe Cheap House".
An ad for another property read, "Cranky teenager? Lock them away".
The director of Massey University's real estate analysis unit, professor Bob Hargreaves, said homeowners were trying to stand out but buyers had to see beyond the gimmick.
"You have to look at each one of those [adverts] on its merits and ask if there is a genuine bargain in there."
Tairua Real Estate owner Gillian McNabb said she refused to advertise properties with incentives.
"The owner can do whatever he likes, it's his house. But for me I think I'd be very careful of the Fair Trading Act."
Advertising Standards Authority chief executive officer Hilary Souter said agents had to be aware of two key aspects. "They need to ask whether it's a truthful statement and whether it is socially responsible."