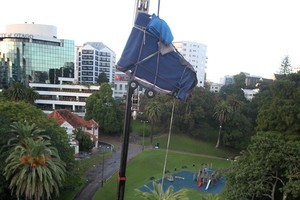 After an Auckland family bought a $200,000 piano for their penthouse in the central city, the next problem was - how to get it inside?
There was no way the 345kg piano could fit in the stairs or the lift.
A helicopter was suggested at one stage, then that idea discarded.
The answer was to hire a crane to do the job.
This morning, casual observers in the city were treated to the sight of a grand piano swinging through the air on its way to the Greys Ave penthouse.
A representative of Lewis Eady, the retailer who has sold the piano to the family, oversaw the operation.
"It all went really smoothly, to my great relief", said John Eady.
"We had to plant the crane some distance below the fifth-level apartment's balcony. It was about 30 metres from ground level to the penthouse.
"Four guys were at the top end, and delivery went without a hitch."
The greatest issue, he said, was ensuring the Council kept access to the location clear over the last 24 hours.
"We had to get the crane into Myers Park via a carpark, where a lot of students normally park their vehicles", said Mr Eady.
"So we had to request that the carpark was closed so we could get the crane into position."
He told nzherald.co.nz that using cranes to hoist large pianos into elevated locations was not that unusual an operation - but normally it would only be to the upper level of a two-storey home.
"This was certainly a bit higher up than usual", he said.
The instrument was a Steinway grand, imported from Germany.
- NZHERALD STAFF