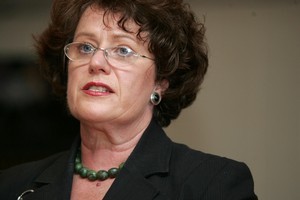 Former Labour Party minister Judith Tizard is widely expected to announce tomorrow she will take the seat in Parliament left vacant by Darren Hughes.
Mr Hughes tendered his resignation after an 18-year-old student laid a sex complaint with the police.
But the outgoing MP insists he has done nothing wrong.
The Speaker's office has confirmed Mr Hughes' letter of resignation has been received and will take effect on Tuesday.
That day, the Labour caucus will elect a whip to replace Mr Hughes.
It is expected to give the job to former whip Rick Barker rather than to a new person to take on in an election year. Mr Barker is currently an Assistant Speaker.
Ms Tizard is next in line on the party's list and is expected to announce her decision on TVNZ's Q+A tomorrow morning.
Sources said they understood she was leaning towards taking the seat despite Labour Party president Andrew Little's clear preference for Louisa Wall, the former list MP who is standing in the safe seat of Manurewa.
Yesterday, Ms Tizard said she had not yet made up her mind but would probably make an announcement tomorrow.
"I have a long list of good reasons to go back. There are a large number of people urging me to do that.
"There are some people urging me not to. I have to make a decision that's about my life, and whether I have things that I think are useful to contribute to the caucus, and that is the decision I will make."
Although Labour leader Phil Goff and Mr Little have said they will respect any decision Ms Tizard makes, if she takes the seat if will be seen as a snub to the leadership.
However, last week Ms Tizard told the Herald she took the constitutional process seriously and could not easily dismiss the commitment she signed up to in 2005.
Yesterday, Ms Tizard was the victim of a April Fool's Day joke when the website scoop.co.nz published a bogus press statement, purportedly from her, in which she announced her return to Parliament.
Scoop later removed the statement after Ms Tizard informed the website it was false.
Mr Little said he had not heard from Ms Tizard recently.
The party's national council will meet today and will discuss Mr Hughes and Mr Goff's decision not to tell Mr Little about the complaint.
Mr Little has voiced some anger about that decision. Yesterday, he said the issue would not dominate the council meeting, which would largely focus on campaign planning.
It will be his final meeting as the party's president before he steps down to run for Parliament as the Labour candidate in New Plymouth.
Vice-president Moira Coatsworth will take over as president.