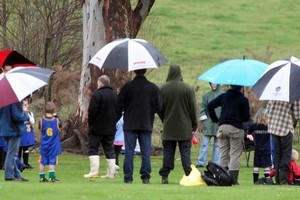 Schools are asking parents to sign codes of conduct before sports events in a bid to stop violent incidents among spectators.
Surprisingly, the problem is worst at netball games, and it has worsened over the past 12 months, says the Secondary Schools Association.
Abusive incidents between parents have also occurred at primary school events.
The use of conduct agreements for parents is widespread in parts of the Far North, Waikato, Bay of Plenty and Wellington.
Secondary Schools Association head Patrick Walsh, who is head of John Paul College in Rotorua, said: "I know some principals are concerned about umbrellas, which can sometimes be used as weapons ... and increasingly you're getting so-called 'rumbles' where two students might have a fight and within seconds there are people running from the sidelines and it ends up in an all-in brawl.
"I have heard from a number of principals up and down the country about the increasing problem they're having with spectators on the sidelines and that ranges from verbal abuse and swearing to physical assaults by parents on either players or referees."
"The sad thing about it is that schools are very much stressing to students the Fair Play code of conduct, and those messages are getting through to students, but it's really disappointing the adults in their lives are behaving so badly. It's just sending a double message."
Schools in the Far North, Bay of Plenty and Wellington had contacted the police and "trespassed" parents because they "hadn't complied with the agreement and behaved badly".
Mr Walsh said another problem was parents who insisted on smoking at schools and becoming abusive when teachers asked them not to.
And the wearing of gang patches at games was also an issue.
"That provides quite a lot of intimidation for players and spectators."
St Francis Primary School in Thames has asked parents to sign an agreement and principal Vivienne Lander said she didn't believe it was an unusual request because it allowed people to know where they stood.
A Sport and Recreation New Zealand code of conduct for parents says they should not pressure their children in any way, arrive at a venue intoxicated or drink alcohol at junior matches, use bad language or harass players, coaches, officials or other spectators.
It also says parents shouldn't criticise or ridicule their children's performance after their games.
WHAT NOT TO DO
* Pressure your children.
* Arrive at their sports games drunk - or drink alcohol if it is a junior match.
* Use bad language.
* Harass players, coaches or other spectators.
Source: Sport and Recreation NZ