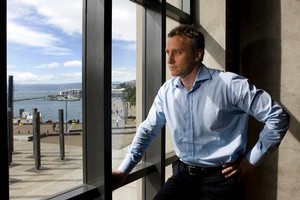 If it had been written as a script no one would have believed it.
On Wednesday last week NZX chief executive Mark Weldon agreed to
take six weeks off to spearhead the Government's Christchurch Earthquake Appeal fund. On Friday a catastrophic earthquake and tsunami hit Japan. Suddenly his job got a whole lot harder.
Firstly there is a sensitivity element. For the next few weeks the Christchurch fund will need to pick who it talks to carefully. "You certainly don't want to take a risk that you call up someone who you think you've got a good backgrounder on but it turns out they've got a brother in Japan, for example."
The advice of well-placed people is that the fund will need to wait and see where Japan ends up before some requests can be appropriately considered.
Second, it will need to shop much closer to home. "More than ever New Zealand, and to some extent Australia, and the corporates and those global businesses that make profits in our communities will have to continue to put their shoulders to the wheel." By midweek the fund had raised $19 million, including $8.2 million from the Lotteries Commission.
Surprising names are stepping up: Chinese mobile phone technology giant Huawei tipped in $500,000 the other day, Weldon says. Huawei, the backer behind local cellphone network 2degrees, seems keen to be a good corporate citizen.
Prince William and his bride-to-be Kate Middleton gave the fund a high profile boost by choosing it as one of 26 charities they wish people to donate to in lieu of wedding gifts.
Weldon claims he does not have a target in mind. "There is not a limit. The needs there are substantial."
The fund is aimed at restoring the community infrastructure people take for granted, he says. While the Government and local councils will cover the "nuts and bolts", there is a gap when it comes to the school halls, churches, parks and swimming pools that have been paid for by years of community fundraising.
"If you go into your average school there's a lot of stuff there that the Government hasn't paid for."
Of Christchurch's 91 parks, 46 are unusable. Two-thirds of the city's swimming lanes are out of action, says Weldon, a former Olympic swimmer.
The focus has been divided into seven areas - hardship and relief; education; spiritual and faith; sport and recreation; heritage and culture; natural environment; and economic revitalisation.
Weldon concedes his role won't be limited to a six-week gig. "If you start something you have an obligation and you want to see those things through."
www.quakeappeal.com
www.facebook.com/ChristchurchEarthquakeAppeal