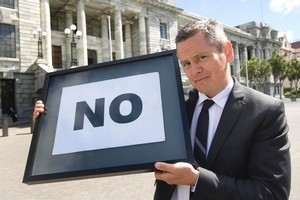 A one-off piece of political history - NZ First leader Winston Peters' "NO" sign - will go up for auction on Thursday night to help raise funds for Christchurch earthquake victims.
Mr Peters used the prop repeatedly at a press conference in February 2008 when facing questions about a $100,000 donation from expatriate billionaire Owen Glenn.
Mr Peters passed the sign to TVNZ political editor Guyon Espiner at the end of the press conference and it has since been framed and hung in TVNZ's parliamentary office.
This Thursday, it will be auctioned as part of a Parliamentary Press Gallery fundraiser for the families and earthquake victims of the Press newspaper and the Canterbury Television station.
Also up for grabs are two bottles of PM's Pinot - a wine given to Press Gallery journalists by Prime Minister John Key.
Espiner said he hoped Mr Glenn would consider buying the sign for one tenth of the size of his donation to NZ First - $10,000.
"It's a real piece of history. You could argue it's a symbol of Winston Peters' demise at the last election. I'd like to see Winston Peters put in a bid for it ... I think he's still got a bit of money lying round that Starship Hospital returned to the party. Or maybe a secret donor might come forward."
Mr Peters could not be contacted but Mr Glenn ruled out buying the sign as he had already given $1 million to the quake recovery through the Glenn Family Foundation.
"Anything that raises money for Christchurch is a great thing. I hope it goes for a great deal of money," Mr Glenn said.
The sign will be auctioned at the Backbencher pub in Wellington.
CAPITAL EFFORT
The Backbencher Christchurch Appeal Debate will be on Thursday.
* Ticket price $30, proceeds to the Red Cross quake appeal.
* Auction proceeds to the victims and families of the Press newspaper and Canterbury Television station.
* Silent bids can be lodged by contacting debate chairman Duncan Garner at dgarner@tv3.co.nz