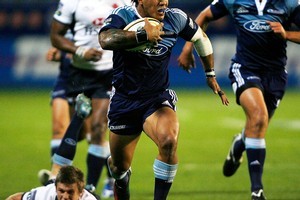 A worried mother had two agonising nights waiting for news of her former All Black son whom she feared had been caught up in Japan's deadly tsunami.
Susan Tuitavake, the mother to former All Black and Blues centre Anthony, now based in Japan, constantly checked her phone and her son's Facebook page for updates but there were none.
Mrs Tuitavake called the Ministry of Foreign Affairs and Trade for any word and registered his details on Saturday night.
"I couldn't think right. I cried and I prayed but at the same time I put trust in the lord that he was safe."
Mrs Tuitavake was preparing for a service at the United Church of Tonga at Grey Lynn yesterday morning when her phone rang.
"It was Anthony, he said "hi mum, I'm in Rome"."
Anthony Tuitavake, in his second season with the NEC club in Chiba, left Japan for a brief holiday in Italy - the day before the earthquake struck.
"Maybe it was the lord who was looking after him all that time," said Mrs Tuitavake.
Meanwhile, another rugby mother breathed a sigh of relief when she got a call from her son, former All Black great John over the weekend.
Patricia Kirwan yesterday told the Herald from her Auckland home that she had spoken to her son, who as coach of the Japanese national side since 2007, makes a regular 18-hour commute from his home near Venice, Italy to Tokyo.
"But he's not in Japan," said Mrs Kirwan.
"He's in Italy. It really is a relief."
Mrs Kirwan said her son arrived at his home in Italy on Friday to the news that Japan had been devastated by an 8.9 magnitude earthquake.
Kirwan, 46, who played 63 tests on the wing for the All Blacks between 1984 and 1994, could not be contacted yesterday but his sister Judith Rippon said she called him immediately when news of the quake broke.
"He had only just realised what had happened because he had only just got back from the UK," said Ms Rippon.
"I don't know how he is but he just said he had called mum and had been trying to get hold of everybody in Tokyo. He really was quite concerned."
Ms Rippon said it was fortunate neither Kirwan or his teenage daughter, Francesca, who had been living in Japan in training for the Italian national volleyball team, were in Japan at the time of the quake.
"I know it's an awful thing to say but there was so much devastation. It's just appalling, probably they would have survived the quake but then there was the tsunami."
The Ministry of Foreign Affairs and Trade said yesterday that 828 New Zealanders were now registered with the Ministry as being in Japan.
As of yesterday there were no reports of New Zealand casualties as a result of the earthquake or tsunami.
A press statement said MFAT staff in Wellington and Japan were making on-going efforts to contact a small number of New Zealanders in the affected areas to determine their whereabouts and safety.
People who cannot contact loved ones in the northeast of Japan please are asked to contact the Ministry of Foreign Affairs and Trade.
New Zealanders in Japan are asked to register their details on www.safetravel.govt.nz