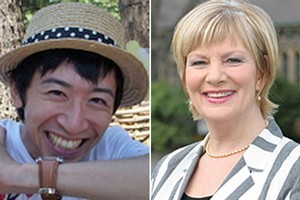 Police have this evening named six more people who died in last month's Canterbury earthquake, after this afternoon releasing 14 names.
The six named tonight are:
* Yu Cai, 31 (female), of China
* Samuel Reese Gibb, 27, of Christchurch
* Janet Dawn Meller, 58, of Christchurch
* Linda Rosemary Parker, 50, of Christchurch
* Beverley May Stick, 71, of Christchurch
* Earl Nicholas Stick, 78, of Christchurch
The 14 named this afternoon are:
* Nina Jane Bishop, 32, of Christchurch
* Patrick John Coupe, 46, of Christchurch
* Joanne May Giles, 60, of Christchurch
* Yumiko Hata, 29 (female), of Japan
* Amanda Jane Hooper, 30, of Rolleston, Christchurch
* Megumi Horita, 19 (female), of Japan
* Haruki Hyakuman, 27 (male), of Japan
* Yasuhiro Kitagawa, 39 (male), of Japan
* Xia Li, 42 (female), of China
* Phimphorn Liangchuea, 41 (female), of Thailand
* Donna Merrie Manning, 43, of Christchurch
* Blair James O'Connor, 34, of Christchurch
* Asuka Tsuchihashi, 28 (female), of Japan
* Hui Zhang, 34 (female), of China
Donna Manning, Nina Bishop, Haruki Hyakuman and Joanne Giles, known as Jo, were among those who died in the CTV building.
Ms Bishop was a Relationships Services administrator who lived with her mother Vivienne in Christchurch.
Ms Manning was a presenter and producer at Canterbury TV and a mother of two.
Ms Giles was a familiar face on regional television and a mother-of-four who ran unsuccessfully for the Christchurch mayoralty in 2007.
Mr Hyakuman was an English language student at King's Education in the CTV building. He was studying English so he could become a nurse.
Yumiko Hata, Yasuhiro Kitagawa, Xia Li, Asuka Tsuchihashi and Hui Zhang were also students at King's Education.
Amanda Hooper, a former Black Stick hockey player, died in the Pyne Gould Corporation building. The mother-of-two worked as an account manager for finance company Marac.
Police have now named 103 victims. The death toll remains at 166 and is expected to rise to at least 200.
Overseas leaders may attend earthquake memorial service
Some overseas leaders may attend Friday's memorial service for Christchurch earthquake victims.
Prime Minister John Key said today that as well as the attendance of Prince William, who would speak at the Hagley Park service, there was talk other leaders may attend.
Mr Key declined to speculate on which leaders might attend.
Declaring March 18 a public holiday in Canterbury meant there would not be the pressure on people to go to work or school and would make it easier to travel around the city to get to the service.
Mr Key defended the declaration of a public holiday for the area.
"In the context of a natural event where potentially 200 people have lost their lives, where the city has had utter devastation wreaked upon it ... to sit back and say we are going to spend one day acknowledging the loss of life where so many people are working literally around the clock to put the city back together again and acknowledging the precious nature of life ... well I think that's a day worth investing in."
Details of the service were still being finalised but it would include a minute's silence.
Auckland will host an hour-long service for the earthquake victims on the same day at 7pm at the cenotaph at Auckland Domain.
Auckland Mayor Len Brown, who will attend the Christchurch service, urged Aucklanders to light candles or lay flowers at the cenotaph.
Mr Brown said Aucklanders could also leave messages of support in condolence books at Auckland Town Hall and any Auckland library.
- NZ Herald staff, NZPA