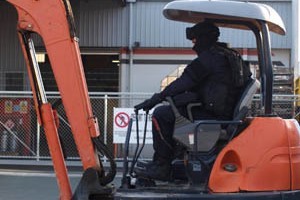 An undercover operation dubbed one of the "deepest gang infiltrations" in New Zealand police history has seen 15 arrests and 20 properties raided.
Police used a bulldozer to smash through the entrance of the Red Devils' gang headquarters in Nelson in one of raids that took place across the South Island this morning.
Two properties were also searched in Auckland, including the headquarters of the Hells Angels gang in Mt Eden.
Police said this morning was the culmination of Operation Explorer - which involved 18 months of gang infiltration by the Police Under Cover Programme.
There had been 15 arrests so far and that figure was expected to rise over the day, a statement said.
"Operation Explorer has been running for over 18 months and has included one of the deepest gang infiltrations in the history of the Police Under Cover Programme."
More than 240 staff from the Armed Offenders Squad, Defence Force bomb squad and police specialist tactic groups were involved in the raids today.
Police said the Red Devils were a puppet gang for the Hells Angels, a prominent global motorcycle gang.
The operation had confirmed the Red Devils' relationship with the Hells Angels and that its primary focus was organised crime, Superintendent Gary Knowles said.
"We never thought for a moment these were just good old boys on motorbikes, despite what their supporters and legal representatives tried to present them as," he said.
Mr Knowles is set to hold a press conference on the operation at the Nelson headquarters of the Red Devils at 2pm.
- NZ Herald staff