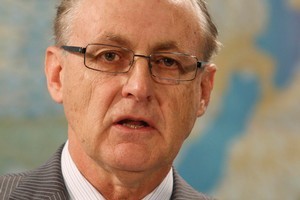 The Reserve Bank cut its benchmark interest rate from 3 to 2.5 per cent yesterday in a bid to prop up an economy shocked by the February 22 Christchurch earthquake.
The cut should be seen as insurance to help offset what could prove to be quite a severe downturn until the task of rebuilding Christchurch started, it said.
Banks immediately cut floating mortgage rates and the dollar fell, as the cut was deeper than the financial markets had expected.
But while economists do not expect governor Alan Bollard to raise rates again until next year, they warn that the increases when they come will be steeper than they would have been without the earthquake.
Higher construction costs will add to inflationary pressures already expected from rising food and oil prices.
Because most mortgages are now on floating rates the bank should get more traction when it does start to raise rates, Dr Bollard said.
Prime Minister John Key said Mr Bollard took "absolutely the right step. He'll have given confidence to the rest of the country," he said.
"Lower interest rates help consumers, they help business and they help the construction sector."
The earthquake is not the only thing that has changed since the bank's previous forecasts three moths ago.
The economy was much weaker late last year than it had expected, as households remained cautious about spending and businesses about investing and hiring.
But positive signs had started to emerge.
Businesses the bank talks to when it prepares its forecasts were more upbeat this time, it said, while imports of plant and machinery had picked up and so had the amount of borrowing businesses were doing.
Part of the reason for yesterday's rate cut is to try to offset the setback the quake dealt to that confidence.
The bank expects unemployment to fall more slowly, from 6.8 per cent now to 6.2 per cent by this time next year.