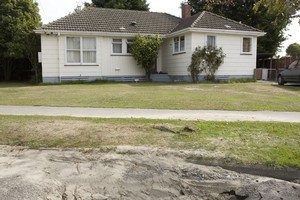 Nearly 500 state homes were significantly damaged in the Christchurch earthquake, 100 were uninhabitable and 20 were likely to have to be demolished, Housing Minister Phil Heatley says.
Housing New Zealand (HNZ) has now inspected all its homes in the worst affected areas.
About 50 staff were checking on tenants and assessing the safety of homes. It has completed checks on more than 4500 homes including 2600 in the eastern suburbs, and other areas badly affected by February's earthquake.
Of the 2600 homes in the eastern suburbs, nearly a fifth (500) showed significant structural damage, 100 were deemed uninhabitable, with around 20 seemingly damaged beyond repair.
Other accommodation was being looked at. Around 30 state tenant families chose to leave Christchurch and be housed elsewhere on temporary tenancies.
"During the course of the inspections, it became clear to HNZ that damage in the suburb of Shirley warranted an extension of the rent relief scheme. Consequently all HNZ tenants in Shirley will pay no rent between 22 February and 15 March," Mr Heatley said.
"HNZ will continue to check on the remainder of its more than 6000 homes in Christchurch over the coming weeks. More minor repair work is already well under way with more than 2600 jobs let out to contractors - one house could require multiple jobs.
"Tenant safety is an important focus for HNZ. More than 18,000 people live in state homes in Christchurch, and we want to ensure those who remain in them, are living in properties that are structurally safe."
- NZPA