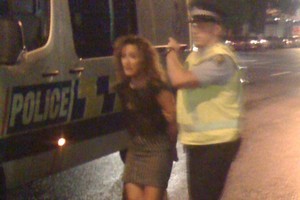 Oscar-nominated actress Keisha Castle-Hughes was taken away from a prominent Auckland nightclub in handcuffs after a bar fight sparked by a "crude" comment about her acclaimed movie Whale Rider.
The 20-year-old star and her agent say she was not arrested in the weekend incident, but confirmed last night that police removed her from the scene.
Both the actress and boyfriend Michael Graves were released without charge.
Castle-Hughes told the Herald the fight broke out after someone recognised her at the Pony Club in Customs St and made a derogatory remark about Whale Rider.
She said Graves got into the fight defending her "in regards to comments made to me that were quite rude about my job, and so from there it became a physical fight".
"He defended me and it got out of hand. It was in the club and there were lots of people involved ... It was very messy.
"It was an unfortunate incident and I was involved in an altercation in amongst it and, yes, I was taken away by the police because I was in the way while they arrested a number of people.
"I was given a ride to the station and then allowed to leave, so there were no charges laid and I wasn't given a formal warning or anything."
Castle-Hughes did not want to say exactly what the strangers had said. "They were quite crude in regards to Whale Rider and they were definitely sexually slanted."
Graves suffered minor injuries in the fight, she said. "He was injured by them. There were no serious injuries on either side, just cuts and bruises."
Castle-Hughes was not sure whether the others involved had been charged.
Asked how the police handled the incident, she said: "They were totally fine. They were just doing their job."
Castle-Hughes, who has admitted having a drinking problem and has attended Alcoholics Anonymous, said she was not drinking on Saturday night.
"It was a good night. I don't get out often, so it was nice to be out. It's just unfortunate that it had to end up like that."
Castle-Hughes said she had called South Pacific Pictures, makers of her new show The Almighty Johnsons, but as filming had finished, "they weren't too concerned because I'm not working for them currently".
A witness, who asked to be known only as Kate, said she saw bouncers escorting two men out of Pony Club. One had blood on his face. The men began fighting on the street and the bouncers tried to pull them apart.
Police arrived soon after. They handcuffed both men but one, who was face down in the street, was putting up a fight and "bucking".
"They were being quite rough with him. She [Castle-Hughes] was screaming. Keisha got in amongst it."
Kate said Castle-Hughes went to help the man and crouched down beside him. "[The police] were telling her to go away. She stood up and one of the cops pushed her to the ground."
The star was helped up by another police officer and clapped in handcuffs.
The two men were put in the rear of a police paddywagon, while Castle-Hughes was placed in a passenger seat. "There was blood everywhere," Kate said.
Castle-Hughes, mother to 3-year-old Felicity, was nominated as Best Actress in the Academy Awards for her Whale Rider role.
She has since starred in The Nativity Story, The Vintner's Luck and Vampire.