Tapu Misa writes that over the past fortnight we have seen many true heroes to remind us what is best about humans.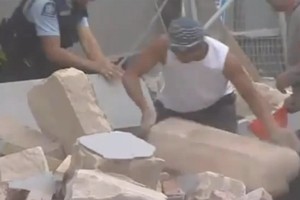 I was beginning to think we were throwing the word "hero" around a little too indiscriminately after the Christchurch earthquake, conferring hero status on people for doing what ordinary, decent people do.
As if courage, selflessness and generosity of spirit were really that exceptional.
Take Ahsei Sopoaga, the shy, humble, quietly-spoken father of five who became the face of the Christchurch earthquake for many after cameras captured him desperately shifting concrete blocks to free 22-year-old Jaime Gilbert, whom he'd never met before.
The images struck a chord, and made Ahsei an instant hit on YouTube and Facebook, where several fan pages have since been launched in his honour. The first, That Awesome Maori Guy (yes, everyone knows now that he's Samoan but the creators of the page can't change the name) has attracted more than 11,000 fans.
Australia's Daily Telegraph called him "a true hero", as do his fans, many of them inspired by his courage and humility.
"For me, you were the face of hope in this tragedy," wrote an admirer. "It was so awesome to see you jump in and try to save lives in all that chaos. You have made your country proud." Another wrote that men like Ahsei restored his faith in the human race.
But an uncomfortable Ahsei (who barely lifted his eyes in an interview with Campbell Live) seemed acutely aware that the person he'd tried to help hadn't survived and there were hundreds who'd done what he did.
"I appreciate what people are saying, but there are so many real heroes," he said. "I was just trying to help, like everyone else."
I'd have agreed with him, but then Charlie Sheen, "the hero", intruded on my musings.
For those of you who've had better things to do, Sheen was until very recently the highest paid actor in America for his role in the television comedy series Two and a Half Men, in which he's paid a ridiculous US$1.2 million an episode to play a sanitised version of himself.
Since being fired for vaguely anti-Semitic slurs, and calling his boss "a contaminated little maggot", among other things, Sheen has launched a scorched earth media offensive, on radio, television and the internet, talking about everything from "the goddesses" with whom he shares his bedroom, to the magic and poetry in his fingertips, his tiger blood and Adonis DNA, his 10,000-year-old brain, and the fact that "I'm an F-18, bro".
Yes, he's "tired of pretending he's not special", and yes, he's having a very public (for some, hugely entertaining) breakdown, hence the million-plus followers on Twitter eager for his every bizarre pronouncement. But while one writer describes this unravelling as "America's favourite new dancing bear act", others are frankly admiring.
Sheen may look like a train wreck to most ordinary mortals, but to a legion of male fans, blogged Marty Beckerman, he has become "a modern icon of unfiltered, untrammelled masculinity". "He's instantly become a hero to millions of educated, courteous young males who would never emulate his antics - nor watch Two and a Half Men, for that matter - yet admire him with irony and sincerity.
His appeal is that, while most guys - especially post-college - must reign in their ids and demur to society's expectations to advance rung by rung up the soul-crushing ladder of corporate mediocrity, Sheen has reached the ultimate apex of manhood eternal: doing whatever he wants and speaking the complete truth, consequences be damned."
And even if he is a deranged, self-destructive narcissist with a history of abusing the women in his life (including ex-wife and the mother of his twin boys Brooke Mueller, who claimed Sheen had threatened to cut off her head, "put it in a box and send it to her mom") so what? At least he's not boring or modest: "He makes deranged, narcissistic self-destruction look like fun".
Give me Ahsei Sopoaga and the hundreds of other ordinary heroes of the Christchurch earthquake any day.
"We don't need another hero," sang Tina Turner in the hit theme for the 1985 movie Mad Max.
But Christchurch has reminded us that the reverse is true.
It's just that the heroes we need aren't over-paid celebrities and sports stars, or even the smooth-talking politicians who look and sound good on TV.
We have seen many heroes over the past fortnight, not just the kind who risked their lives to crawl into collapsed buildings to get people out, but the kind who remind us of what is best about human beings.
They are the heroes who captivate and inspire us, who expand our sense of possibility, as American ethics scholar Scott La Barge writes, and help us "lift our eyes a little higher".
"We largely define our ideals by the heroes we choose, and our ideals - things like courage, and honour and justice - largely define us."