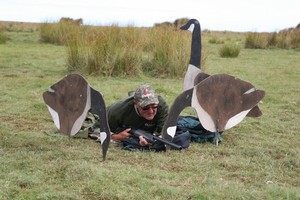 We were sitting around the kitchen table having a cup of tea at my mate's place in the Christchurch suburb of Belfast on Tuesday, February 22; a day which will go down in history as one of New Zealand's blackest days.
The morning had been spent shooting pigeons near the airport and we were planning the next adventure with the television cameras, a hunt for Canada geese with one of Canterbury's most successful goose hunters.
Then, nine minutes before 1pm, there was a sudden, rattling roar. It was very quick. Just as if one was standing on the platform of an underground station in New York and a train came hurtling out of the tunnel, roared past and disappeared into the blackness. It was very loud. How could the ground make so much noise? The house was shaking and vibrating, the walls like liquid.
"Out the door!" yelled Trevor Isitt. He knew instantly what was happening. The decking moved under our feet. The driveway moved under our feet. After about 10 seconds it was gone. But it was 10 seconds that changed Christchurch forever.
"That was much bigger than the September quake," said Trevor. "There will be fatalities. There will be a lot of damage." How prophetic were those words.
When driving down the road 30 minutes later to make sure all his family were safe, his car started weaving all over the road. The tarmac was rolling in waves. "Another big one," said Trevor, pulling over.
Trevor's family were safe but his daughter's home, which is attached to the girls' boarding school where she teaches, was trashed. Every cupboard was emptied on to the floor. The paths and steps were shattered. Daughter Suzanne had only two weeks earlier purchased temporary shelters, large tents which we helped erect along with some builders from Palmerston North who had been working in the city for two weeks repairing damage from September. The pupils were not allowed back into the school, and the tents would shelter them until parents from all over the South Island could collect their young ones. Imagine the fear among parents as they tried to get through on over-loaded cellphone services? None were injured at that school.
Every street was flooded from burst water mains, and sand was pushed up to cover footpaths and roads where dazed people walked home, their vehicles trapped in the city. There was nothing much more to be done. The central city was closed off. We still had power and water at Trevor's house, and sharp shakes during the night were more effective than any alarm clock.
But the filming had to go on, and at daybreak we were driving across paddocks at the foot of the Port Hills, setting up decoys for Canada geese. Goose hunting is a religion among shooters in Canterbury, akin to the salmon fishing which turns normal people into fanatics.
Farmers want the geese shot because a mob of 200 can devastate a paddock of crops. Shooters regard the Canada as the ultimate game bird, and in their native United States shooters are limited to one or two birds in a season. In most parts of New Zealand the season runs for 10 months and there are no restrictions on numbers which can be shot. Visiting American hunters can shoot 100 years' worth in one day. They can not believe it.
The Canada is one of the most wary birds, and successful hunting relies on doing the homework; knowing where the birds are going to feed on the surrounding paddocks or crops when they fly out from Lake Ellesmere, where upwards of 15,000 birds live.
Our guide was a local farmer who specialises in hunting Canadas. Terry Lassen is a legend in Canterbury shooting circles, and personally accounts for 1000 geese a year. So we were in good hands. He keeps in touch with farmers throughout the district, and has developed his own style of hunting. Two years ago he dispensed with the temporary blinds most shooters use, and lies flat on the grass behind plywood decoys he has made, then sits up to shoot.
So there you are, lying on a coat, water squeezing out of the grass to soak trousers, trying to avoid patches of cow dung and goose poo (a good sign), when suddenly the ground starts to shake. Another quake. And you think, "What am I doing here?"
Then you hear a distant honking, and Terry and Trevor reply with their calls. The sounds grow louder, filling the sky. There is nothing so stirring as a line of Canada geese descending on the decoys, flying straight towards you, their vibrant honking echoing around the hills, coming closer and closer, and you forget the earthquakes for just a moment.
The show goes on.