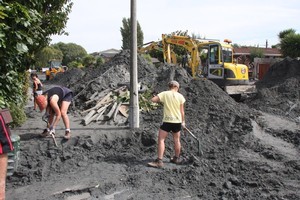 With natural disasters hitting both New Zealand and Australia, both countries may have to fight over the people helping rebuild.
Australian Attorney-General Robert McClelland, who was in Christchurch today, said having enough trades people assisting both the rebuilding of flood and cyclone-hit Queensland and quake-damaged Christchurch would be a challenge.
"These are the sort of things that we would talk about at a Government to Government level. We recognise each others needs and getting that balance right are things that we will discuss as part of the normal course."
Mr McClelland, who is responsible for emergency management in Australia, was in New Zealand checking-up on the Urban Search and Rescue (USAR) teams helping since the magnitude 6.3 earthquake struck last week.
He met with Earthquake Recovery Minister Gerry Brownlee and thanked New Zealand for their hospitality.
"New Zealand is always a first when we have a crisis and it's fair and proper that we respond.
As our Prime Minister (Julia Gillard) said we are family and we are very pleased to do it."
Australia sent two USAR teams of 70 from Queensland and New South Wales. A third team of 30 arrives today to relieve the Queensland team who have spent 11 days in Christchurch.
Mr McClelland said the teams were more than happy to help, and Australian police had also lined-up to volunteer.
"I'm told that on their day off, a number of police officers had gone to help their New Zealand counterparts tidy up their own yards. Again that would be done in reverse, I'm sure."
Australians would also show their support to Christchurch at the Rugby World Cup, he said.
Mr McClelland was optimistic the earthquake would not stop Australians from visiting the country during the tournament.
New Zealand is a beautiful country and "Australians would love to travel here in any event".
- NZPA