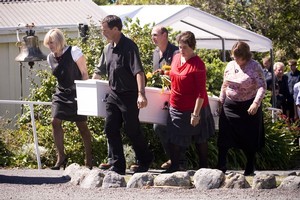 Earthquake victim Shane Tomlin, 42, was farewelled this afternoon at a church overlooking the ocean in his family hometown of Kaikoura.
His sister Judith McLaughlin spoke of the memories his three sisters and parents had of him and their sadness at losing him.
"The day the earthquake struck and took his life, when he was waiting to be rescued he told those with him 'help the others first, I'll look after myself.' He was a guy who selflessly didn't like a fuss. He was gentle, kind, unassuming and was just going about his business."
She said although he enjoyed doing his own thing, he was fond of his nine nieces and nephews, showing them his pet turtle and playing tennis with them on the last Christmas Day they shared together.
Friends and colleagues from Mr Tomlin's workplace, the Trocadero Bakery in Cashel Street, also spoke, describing him as a hard-working man with a fondness for the races, his turtle and his vegetable garden.
One of his workmates, Bev, said in a letter that was read out during the service that Mr Tomlin had arrived at work on that Tuesday and said there would be a quake because there had been a big one in Argentina and the whales had beached.
"We joked about which bench we would get under. We never got a chance."
For days Mr Tomlin's family held on to hope he would be alright after seeing footage of the 42-year-old's dirty, pained face after he was pulled from the wreckage of a Cashel Mall building last Tuesday.
But on Sunday, the family were told by police that Mr Tomlin, the eldest of four, died in Tuesday's 6.3 magnitude earthquake.
Mr Tomlin's sister, Judith McLaughlin, flew over from her home in Brisbane to be told the news.
"They identified his body last night," she said on Monday.
Mrs McLaughlin moved to Australia a couple of years ago with her husband, who is also from Christchurch.
"When the earthquake hit, my husband, who works in the mines, told me there had been another big earthquake in Christchurch and wanted me to call his family to see if they were alright," she said.
Her husband's family was safe, but Mr Tomlin had not been heard from.
Later that night his blackened face was broadcast around the world.
"We thought at that stage he was okay," Mrs McLaughlin said.
When the earthquake struck at 12.51pm, Mr Tomlin was in the upper level of a Cashel Mall building where he worked as a baker at the Trocadero Bakery.
Rescuers came to his aid when the building collapsed and he was taken to hospital on the roof of a police car - a person on each side holding his stretcher.
His family knew Mr Tomlin did not have identification on him, and for days frantically called hospitals to find out what had happened to him.
Even now, Mrs McLaughlin is none the wiser.
"We know there was a nurse who came to his aid. She rode on the top of a police car with him to the hospital. From when they dropped him off at the hospital and when the doctors took over, we don't know what happened next."
"He was quite a quiet person. Very unassuming," Mrs McLaughlin said.
She said her brother left home aged 15 to do a bakery course. He lived alone in the suburb of Waltham, with a pet turtle and some fish.
Mr Tomlin was a keen gardener who loved his vegetable garden, Mrs Laughlin said.
She said her brother kept to himself, not often calling his siblings - until the 7.1 magnitude earthquake hit last year.
"He wasn't good at keeping in touch," she said. "But after the September earthquake he must have got more of sense of family. He sort of softened up."